Things to do!
In August:
August (Annual) 2012 – Rosarito Beach: Rosarito Fish, Seafood and Tropical Drink Festival.  All day and evening.  Families piles their plates high with different fish and seafood dishes. Regional chefs compete with one another to have their recipe reign as the supreme for this event, at Rosarito Beach every year. The Rosarito Fish, Seafood and Tropical Drink Festival is a day of exquisite gorging.  For more information, click here.
  Places to Go!
Late December to April (annually)
Baja California: Whale Watching in Baja California.  A small percentage of whales, usually those not giving birth, make it as far south as the southern tip of the Baja, but most whale-watching takes place in three major lagoons all the coastline of the Baja Peninsula.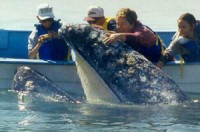 Laguna Ojo de Liebre: Also known as Scammon's Lagoon, is located about half-way down the Pacific side of the peninsula near Guerrero Negro, 440 miles south of the border.
Laguna San Ignacio: Located 100 miles south of Laguna Ojo de Liebre, access to this site is mostly through charter air service from international airports, such as San Diego and Tijuana.
Bahia Magdalena: Increasingly popular for whale-watching because of its proximity to the La Paz International Airport.
Cabo San Lucas: Although the above mentioned locations get more whales, probably more people see whales in Cabos than the other locations.  The harbor sailing and sunset trips offer an excellent chance of a close encounter with a grey whale.