Things to do!
In September: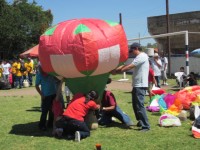 September 9, 2012 – Ajijic, Lake Chapala: Regatta de Globos (Hot Air Balloons) is always held on the Saturday before Independence Day, which is September 16 this year.  It is held at the soccer field on Calle Revolucion.  This event is the beginning of the Fiesta Season that lasts until after Easter. For more information, click here.
Places to go!
Stationary Biking
Club Nautico, #57 Paseo de la Huerta, La Floresta, offers Spin classes, as well as Pilates Reformer and Mat classes – Contact Claudina or Jimmy (045) 333 814-5913
Change of Pace 
11-B Carratera at Marcos Castellanos, Ajijic Circuit training; (376) 766-5800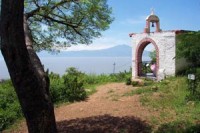 Hiking
Departing from the top of Calle Galeana, the street just east of the Ajijic Clinic, hike up the mountain a couple hundred feet and catch the first view of Lake Chapala. The San Andres Church steeple stands proudly in the foreground.
Golf
Chula Vista Country Club – Kilometer 53, Carretera Jocotepec Chapala, Chula Vista, Jalisco; (376) 766-5981 (9 holes)
Country Club De Chapala – Fracc. Vista De Lago #1, San Nicholas de Ibarra, Jalisco; (376) 763-5136 (9 holes)
Lake Chapala Society - 16 de Septiembre #16A, Ajijic, Jalisco.  Office: (376) 766-1140.  Grounds open: 10 am – 5 pm. You can stroll through their gardens, or check out the community bulletin board and calendar of events for activities and associated groups. LCS is one of the most complete ex-pats organizations anywhere in the world.
Street Markets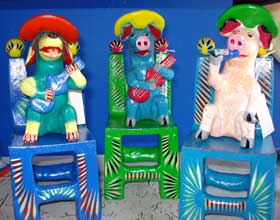 Ajijic – Wednesday – Calle Revolution – 9 am
Chapala – Monday – Calle Obregon or Emillano Zapata
Jocotepec – Thursday – At the Square (Miguel Arana at Hidalgo)
San Antonio – Sunday -  At the square (R. Corona at Independencia) – 9 am
Spas
Total Body Care – Ocampo #33, Ajijic, Jalisco; (376) 766-3379
Monte Coxala – Raquet Club, Rafael Osuna #300, San Juan Cosala, Jalisco; (387) 761-0111
Hotel Villa Bordeaux & Spa – San Juan Cosala; (387) 761-0302
Animal Shelter
Riberas del Pilar – Hidlag #212, Ajijic, Jalisco – Volunteer to help at the Animal Shelter.