Things to do!
July
July 5, 2012 to July 7, 2012: Marina Cabo San Lucas/Docks K – M (In front of the Wyndham Cabo San Lucas Resort)  Third Annual Cabo
Marine Show
Calling all boating enthusiasts! On display are globally recognized brands of high performance boats, marine products, real estate developments, golf and tourism industry providers. Visitors to the show can learn more about sport fishing, water sports equipment, luxury yachting, chartering from the show's participating experts and leaders in their fields. Parties, live performances and music.  Sponsored in part by IGY Marinas, Fonatur, Los Cabos CVB, Marina Cabo San Lucas, Wyndham Cabo San Lucas Resort.
For more information: info@maaseventos.com  http://cabomarineshow.com, www.facebook.com/cabomarineshow
July 24, 2012 to July 28, 2012: Hotel Buena Vista Beach Resort, Los Cabos   Bisbee's East Cape Fishing Tournament
Anglers from all over the world come to the East Cape to compete for large cash prizes. In 2010, three tournament records were set and more than $300,000 was awarded. The Sea of Cortés is home to some of the biggest billfish in the world.
Website: http://www.bisbees.com/
 In October: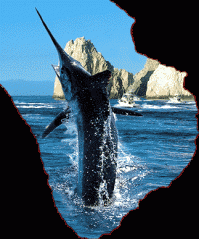 October 16-20, 2012 – Cabo San Lucas: Los Cabos Billfish Tournament.  The tournament fee is $5,000. This fee covers up to six anglers in the base tournament categories and must be received before October 1, 2012. For complete information, click here.