Re-locating your pet to Mexico is one more thing to prepare for.   Driving into Mexico with your pet is much more simple than flying in with your pet as airlines have very strict guidelines you must adhere to.
Driving With Your Dog or Cat
There are only three things you need to do to travel with a dog or cat into Mexico.
First, make sure you purchase a roomy kennel for them to safely make the journey in.  Make sure there is room enough for them to stand up and turn around, a comfy pad to lie on and a water bottle or bowl.
Once you have purchased the kennel, decide where the kennel will sit in the car so that you can easily open the kennel door and the car door to let the dog / cat out.  Try to place the kennel next to a window for air flow.
You are going to be packing around the kennel, but leave enough room for the door to open and air to get to the animal.
Beyond that, a visit to your veterinarian within 5 days of departure is necessary to get a certificate of good health.  Schedule this appointment in advance of your 5 day travel window.  Your vet will know what things to check for but proof of vaccines against rabies and distemper are necessary.  It's a good idea to have all of your pets vaccines updated anyway before your move.  If your pet has recently been treated for an illness, you may want to ask for any treatment records to be copied so you can show them to your new vet in Mexico.
Using a plastic sleeve, tape a copy of the Certificate of Good Health onto the top of your kennel for easy access at the border.  Keep the original with the other documents you will need at the border crossing such as copies of your passports and the list of items included in your car.
If you're traveling by car, your pet's papers may not even be checked but it's a good idea to have them easily accessible just in case.
Flying With Your Pet
First, be sure to mention when you book your ticket that a pet will be flying with you.
Airlines limit the number of in-cabin pets, have black out dates for pet travel, and strict guidelines regarding carriers. Each airline is different, so it's important to get their exact requirements.
All airlines have their own guidelines and you MUST  follow their guidelines exactly so your pet is not turned away at check in.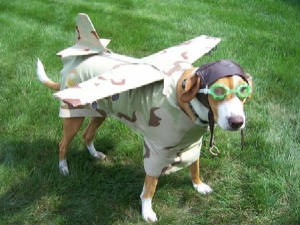 One of the most important questions to ask the airline are if there are any black out dates that pets are not allowed to fly. Typically, any holiday season, pets are not allowed to fly.  Foreboding temperatures, either hot or cold, will also ban pets from being able to fly in cargo, so if you are planning to move to Mexico in January, you may be taking a chance on this.
All pets traveling by air must travel in a pet carrier.  Airlines will list the size limits for carriers and the type of material they must be made of but generally, the kennel requirements for all airlines are that the dog or cat has to have enough room to stand up and turn around.
Large pets traveling in cargo hold must be in hard-sided carriers and must have enough food and water for the trip.  If your pet is traveling in-cabin, the carrier must be soft-sided and relatively small, as it must fit under the airline seat in front of you.
If you need to reserve space for your pet, the airline will issue a separate confirmation number for them and will probably charge you at that time for your pet's travel.
Traveling With Exotic Pets
The rules described above apply for dogs and cats.  If you have more exotic pets like rabbits, ferrets, birds, or snakes, you will need to check with a Mexican consulate for the latest guidelines.
Mexico Has Excellent Veterinarians
There are a lot of areas in Mexico, especially areas with large expat communities, with excellent vets so don't worry about bringing 6 months of pet food with you.  You most likely will not have any trouble finding a qualified vet who sells quality food, flea medicine and other items your pet may need to stay healthy.