If you listen to all the news headlines about Mexico's drug war you might believe the whole country is a drug war zone; then again you probably wouldn't be reading this, so congratulations on over coming the negative press and doing your own research on Mexico safety! You are smarter than the average person and you are looking beyond the headlines and digging a little deeper into the statistics. Yes, Mexico is a safe place to live.
The facts, when you take the entire country of Mexico into account, paint a much different picture of how safe it is in Mexico.

The facts are that Mexico is not a gun culture like the US. Violent gun crimes and other violent crimes are not nearly as common in Mexico as they are in the US.  When it comes to guns, it is very difficult to buy a gun in Mexico as a citizen and you must have good reason to own one which requires a special permit.  
There is no denying the staggering cartel related deaths that happen in Mexico, but make no mistake, those issues are HIGHLY concentrated in the border zones and a few "hot spots" within Mexico.  The murders that are happening are also HIGHLY concentrated within the cartels themselves. Yes, innocent people get killed in Mexico too, when bullets fly, people die.
The cartels also know that killing tourists and expats is very bad for business and so does the Mexican government. They are reacting much faster and sending more resources and law enforcement to areas that have flare ups and it is working to curtail that violence.
Cartels are at war with each other and their government; they are killing themselves off, so this is a good case for natural selection as well.
How dangerous are parts of Mexico right now in 2020?
If you want to compare U.S. and Mexico Crime Statistics you can check this link: https://www.nationmaster.com/country-info/compare/Mexico/United-States/Crime#
Suffice it to say, "nobody's perfect."
Mexico has over 761,606 square miles and the majority of that territory is peaceful territory where locals and expats  live and tourists visit.  In fact, Americans and Canadians are less likely to face violence in Mexico than a lot of U.S. cities, especially in Mexico's most popular travel and expat destinations.  When you look at the actual number of Americans or Canadians killed in Mexico annually, the statistics back up the safety.  It's safer than Orlando…don't take the kids to Disneyworld!
IN THE MEANTIME: Please ALWAYS refer to the U.S. State Department for the most current safety conditions in Mexico. US State Department Travel Advisories for Mexico Nearly all violent murders in Mexico have occurred, and are occurring, along the U.S. / Mexico border and Northern Pacific Coast regions like Sinaloa, Michoacan and Guerrero (Acapulco, Sinaloa and Nuevo Leon), where the drug trafficking is still occurring. Ciudad Juarez, just across from El Paso in Texas remains another hot zone. Ironically, El Paso is one of the safest cities in the U.S.
Mexico Crime Statistics
2016 US State Department Reports: The U.S. State Department reports that 75 Americans of the over 31 million who visited Mexico in 2016 were murdered, which is a rate of 2.25 of 100,000 visitors. It is not clear if these Americans were, or were not, connected to drug related activities but we can reach some fairly compelling circumstantial conclusions based on the majority of them occurring in known "hot zones" along the border or other notorious locations.
US State Department Travel Advisories for Mexico
All of our "best places to live in Mexico" and "best places to visit in Mexico", in terms of it is safe to travel in mexico, working or living, are not on the US State Department warning locations list.
Regarding Mexico safety scores as of February, 2019 The US State Department warns against "non-essential travel" to just 5 of Mexico's 31 states (Colima , Guerrero , Michoacán, Sinaloa and Tamaulipas ).
The warning goes into more depth by recommending against travel to certain parts of other states, those "hot zones" within Mexico.   These are pocket areas or specific cities within Mexican states.
You will find more infographics at Statista
What Can We Take Away From All These Reports? Mexico has been fighting their drug wars for many years now and their efforts have resulted in taking down some major cartel king pins, but the resulting vacuum seems to have led to more violence between cartels. However, in Mexico, the risks are different for a business trip to Mexico City, seeking white sandy beaches in Holbox, Cancun, Todos Santos, Tulum or visiting family across the border.  The statistics prove this out and in broad terms, murder rates in most states of Mexico are lower than most states in the US.
First of all, no matter where you travel in a foreign country, use the same COMMON SENSE you have at home and avoid bad neighborhoods, especially at night, and don't associate with bad people or buy drugs.
Believe it or not, most Mexican people read the same headlines we do in dismay and disgust! Most Mexicans are not drug lords or members of the cartels. Most Mexicans are very family oriented and have a strong sense of community and religion. They strive to live in the safest places in Mexico, just like us expats do.
So, is Mexico dangerous?
Well, the obvious solution is choose to visit and live in a place that is safe! Mexico is a large country, about the same size of the US. There are thousands of miles to explore. All the locations we recommend are deemed to be safe by any standard and of course are safe according to the US State Department. Border zones, cartel hot spots and dark roads at night in Mexico are to be avoided.  Just like wherever you are from, you stay away from the known areas that are dangerous. There are bad people in every country in the world,  seek out the good people and good places and be very happy living in Mexico along with 1 million + other Americans and Canadians. Check out this article from the BBC for a detailed report.
Historical Homicide Data For Mexico
We take safety seriously here, there is no joking around when it comes to murder and violent crime. Mexico, as a country, is taking it seriously as well.
We bring attention to the statistical facts about the murder rates in Mexico, both for Mexican Nationals and U.S. citizens.  The overall rates from 2015-2018 within Mexico are shown in the chart at the bottom of this page.
For those of us who live in Mexico, the emphasis in the U.S. press on how violent and murderous Mexico reflects a total lack of context, when compared to the reality of violent crimes and murder in the U.S. is unfair at best. Statistically speaking, when you are focusing on overall violet crimes,  Mexico is safe, moreso than the U.S. statistically!
If you want to compare U.S. and Mexico Crime Statistics in more detail you can check this link: https://www.nationmaster.com/country-info/compare/Mexico/United-States/Crime#  
The somewhat dated chart below simply demonstrates American deaths in Mexico related to murder rates only. Still valid and relative to compare in 2019. The cited data is discussed further below. Yes, this specific chart and comparison is ONLY pointing out American victims in Mexico. The statistical point here is to show expats, workers from the U.S. and tourists are rarely involved in the overall scary stats about murder in Mexico.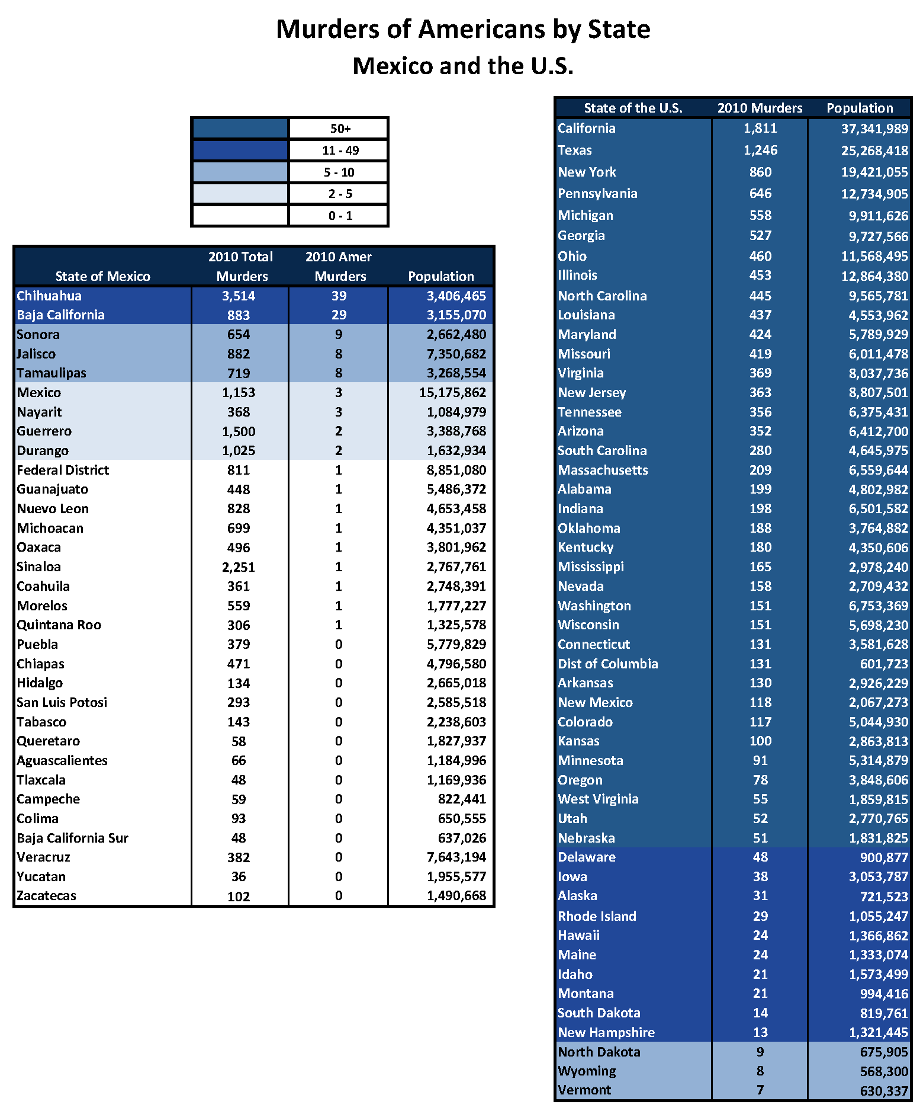 The chart above (click on the chart, or here for a larger version of the chart)  is a summary of statistics taken from the U.S. State Department website for deaths in foreign countries due to unnatural causes for 2010, and the FBI website on U.S. Crime statistics analysis (complete year 2010).  Bear in mind that these numbers include the more than 150,000 Americans who cross the border every day to visit Mexico, not just the ex-pat population and tourists.  Notice that not a single state in the U.S. is in the "baby blue" or "white" category. 
However,  there are 27 states in Mexico within those categories. 
The U.S. State Department reports that 75 Americans of the over 31 million who visited or lived in Mexico in 2016 were murdered, which is a rate of 2.25 of 100,000 visitors.
About the same odds of being struck by lightening in your lifetime.
Oh yes!! The criminal element in Mexico, primarily the drug cartels, have guns – big, bad guns – thanks mostly to the efforts of the U.S. Justice Department.  But, gun ownership is very difficult in Mexico (an extensive and expensive application process), so if you forsake any plans for a career as a mule with the Tijuana or Zeta Drug Cartels, you can forget about seeing guns, at all.  And yes, petty theft is a problem everywhere in Mexico (where there is poverty, there will be petty theft) – but, again compare it with theft in the U.S. (statistics not shown here, but available on the FBI website, link below) where the amount of theft has been in the seven- and eight-digit realm. 
Use some common sense regarding your belongings, and you are unlikely to lose that cash, camera or laptop.  Whereas, in the U.S., men in three-piece suits with impressive Wall Street addresses have been known to steal most, sometimes all, of retirement savings.
Let the numbers tell you the real story!
The above statistics reflect the total number of homicides in Mexico from January 2015 to December, 2018.