We take safety seriously here, there is no joking around when it comes to murder. The facts show that Mexico, as a country, is taking it seriously as well.
This article is to bring attention to the statistical facts about the murder rate in Mexico.  For those of us who live in Mexico, the emphasis in the US press on how violent and murderous Mexico is and the total lack of context, seems a joke when compared to the reality of violence and murder in the US.  Statistically speaking, Mexico is a far safer place to live than the US, especially in regard to murder rates. The cited data is discussed below.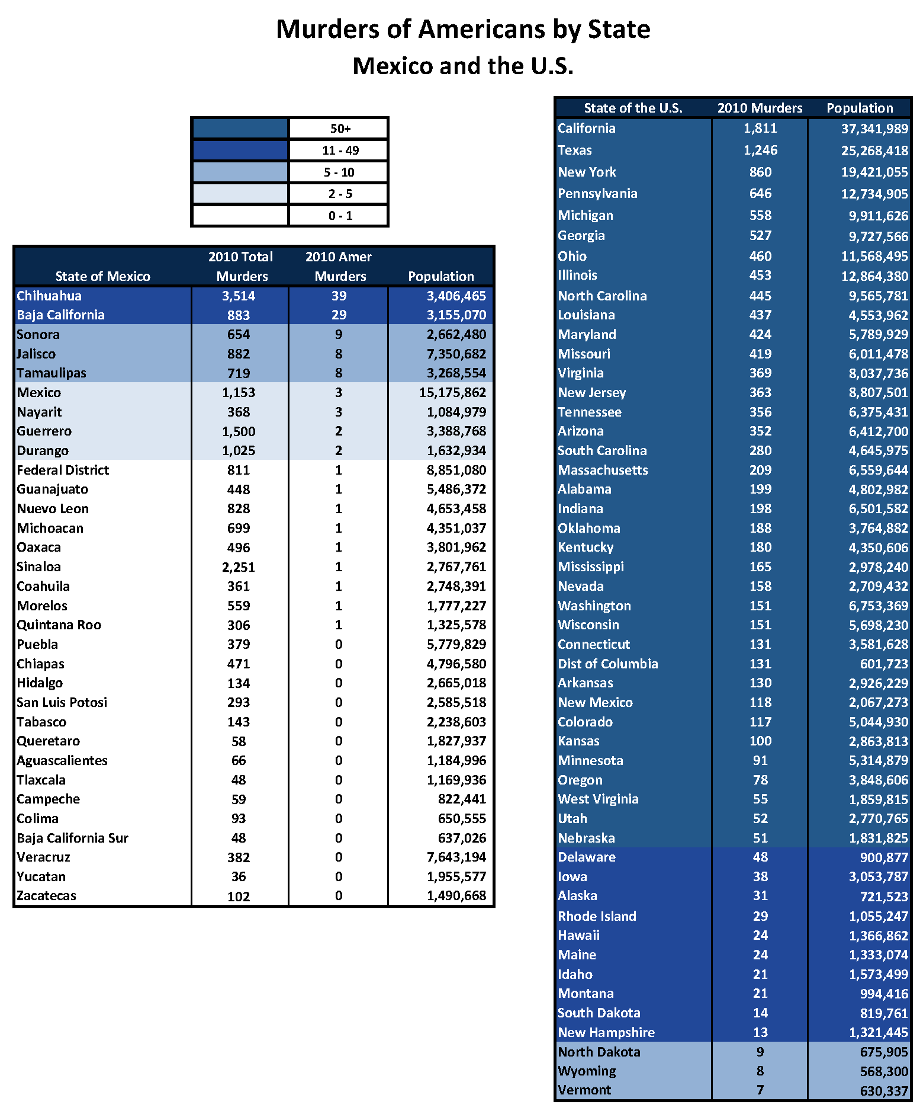 The chart above (click on the chart, or here for a larger version of the chart)  is a summary of statistics taken from the U.S. State Department website for deaths in foreign countries due to unnatural causes for 2010, and the FBI website on U.S. Crime statistics analysis (latest complete year 2010).  Bear in mind that these numbers include the more than 150,000 Americans who cross the border every day to visit Mexico, not just the ex-pat population.  Notice that not a single state in the U.S. is in the "baby blue" or "white" category.  However,  there are 27 states in Mexico within those categories.  Also, please note that included on the USSD website is this caveat, "The information below should not be considered a statistically complete account of U.S. citizen deaths in foreign countries during the reporting period. Only those deaths reported to the Department of State and deaths that can be established as non-natural are included."
Take a look at a couple of the states that have similar population sizes and their murder numbers for 2010:
United States

Mexico

New Jersey, 8.8 million pop.

363 murders

Federal District, 8.9 million pop.

One American murdered

Alabama, 4.8 million pop.

199 murders

Chiapas, 4.8 million pop.

No Americans murdered

Wisconsin, 5.7 million pop.

151 murders

Puebla, 5.8 million pop.

No Americans murdered
Oh yes!! The criminal element in Mexico, primarily the drug cartels, have guns – big, bad guns – thanks mostly to the efforts of the U.S. Justice Department.  But, gun ownership is very difficult in Mexico (an extensive and expensive application process), so if you forsake any plans for a career as a mule with the Tijuana or Zeta Drug Cartels, you can forget about seeing guns, at all.  And yes, petty theft is a problem everywhere in Mexico (where there is poverty, there will be petty theft) – but, again compare it with theft in the U.S. (statistics not shown here, but available on the FBI website, link below) where the amount of theft has been in the seven- and eight-digit realm.  Use some common sense regarding your belongings, and you are unlikely to lose that cash, camera or laptop.  Whereas, in the U.S., men in three-piece suits with impressive Wall Street addresses have been known to steal most, sometimes all, of retirement savings.
Below is a chart based on FBI statistics (murder only) which reflect the highest murder rates per 100,000 population, in urban areas in the United States for 2010 and 2011 (statistics from the FBI Statistics Website):
In the US, you probably feel perfectly comfortable taking the family to Disney World in Orlando, Florida.  But, did you know that Orlando has a 6.3 murder rate per 100,000 population? Much higher than the average American city of the same size.  But, murder is committed, primarily, in the areas where the drug dealers run rampant!!  When you're in Orlando, you don't go into those areas.  Use that same policy any place in Mexico and you will be far safer than you are in Orlando.  Any place – even Cuidad Juarez!  Looking at these statistics, one wonders why the US State Department issued a "travel warning" for Mexico, and not for travel within the United States!!
We use the color coding in the Mexico stats chart in our Best Places to Live Summaries.  Codes go from white (completely safe) to baby blue (very safe), soft blue (safe), royal blue (safe, but avoid hot spots), and dark blue (monumentally safer than most cities in the US, but in Mexico, a "hot spot").
Let the numbers tell you the real story!