Mexico on My Mind Provides Homeowners Insurance for Peace of Mind in Mexico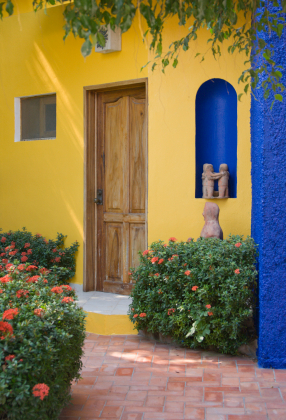 Whether you are a part time or a full time resident, if you own a home or condo in Mexico, you should have Mexican home owners insurance or Mexico condominium insurance! What is the cost for Mexican homeowners insurance?  Find out right here.
Click Here to Get a Mexico Homeowners Policy Now
Mexico on my Mind offers all-risk, American style, Mexican homeowners insurance, as well as renters liability insurance. If you rent out your home, condominium or townhouse, our policies include renter's liability coverage at no additional charge. Mexico condominium insurance is just like a homeowners policy, but also covers a portion of common areas in a shared complex.
How much does homeowners insurance cost in Mexico?
The premium variables for your Mexico homeowners or condominium insurance will depend greatly on the size and location of the property.  It will also depend on your proximity to water, construction materials, type of use, theft prevention measures and building replacement costs.  There is not one answer for this question, but you can find out instantly by clicking here for an instant quote!
Our preferred policies are:
Mexico home owners (MXHO) insurance carrier is Grupo Nacional Provincial (GNP) S.A.B.
GNP is one of Mexico's oldest, best-known, and most reliable insurance companies
GNP's financial strength rating with AM Best is "A (Excellent)"
As of September 1st, 2019, the program's coverage area now includes

all territories of Mexico, including the Yucatan Peninsula!

Available for Mexico condominium insurance, town-homes, and single family homes, located in Mexico
Hurricane (hydro-meteorological) coverage may be purchased for beachfront homes, without having to install storm shutters
Theft coverage may be purchased, without having to install security bars over the windows
Earthquake and volcanic eruption coverage may also be purchased
Replacement cost coverage available for dwellings with reconstruction costs up to $2 million USD
Civil Liability coverage up to $2 million USD for homes occupied by the owners, either full-time or part-time
Renters Liability coverage up to $2 million USD for homes rented out, including short-term and vacation rentals
All policy documents are in both English and Spanish, including the itemized quote coverage explanation, policy declarations, terms and conditions, and claims instructions
GNP's MXHO 24/7 claims call center and their adjusters provide bilingual support for our unique program
Policy rates are competitive, and with the advantage of adjustable deductibles, customers may opt for greater deductible amounts, to reduce their premium amounts
Loss of use (extraordinary expense) coverage for reimbursement for the costs of up to six months of lodging expenses, after a covered loss occurs
Loss of rents coverage for reimbursement of up to six months of lost rental income (requires documentation of lease agreement or confirmed bookings), after a covered loss
What is the cost of Mexican homeowners insurance? Quick instant quotes with the option to purchase immediately and securely online (credit or debit)
Mexico Condominium Insurance with Special Coverage
Mexico on my Mind offers the option to include American style, very broad "Special" or "Open Perils" Mexican homeowners or condominium coverage, which means that all losses will be covered, unless they are specifically listed as excluded under the policy.
Coverage for earthquake, hurricane, wind and flood is available with favorable deductibles and co-payment options for you. Dwelling coverage includes the Replacement Cost of the main structure of your home as well as attached car ports. Other Structure coverage includes your detached structures such as garages or guest cabanas, all with the option to insure them at their replacement cost.
If your Mexican home or rental property is robbed, you can be reimbursed for the value of your lost possessions up to the policy limits, including electronics. Both replacement cost and actual cash value settlement limits are offered as options. Property owned by your guests or employees will also be covered at your residence.
The Mexico on my Mind policy reads very much like your USA Home owners insurance policy so that it is easier to understand. Contact us directly, or ask your USA or Canadian agent to do so on your behalf for a quote. We will compensate your USA Home owners agent for placing your Mexico Home owners policy via our operation.
Purchasing Mexico homeowners insurance from Mexico on my Mind is quick and easy. You can get the cost of Mexico homeowners insurance with a quote, purchase and print your policy within minutes and be on your way, with the knowledge that you and your family are covered.
Click Here for your Mexican Homeowners Insurance Quote and Policy Now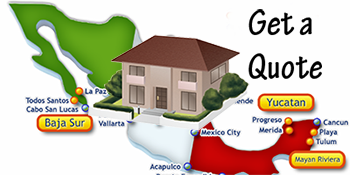 Our Service Promise to You…
We are a team of professionals determined to make your international insurance policy purchase as straight forward and simple as possible. There are never any hidden fees or charges. All of the policy costs are upfront in total.