Average Lifestyle Rating: B – (range  C+ to A+)
Click here to view our directory of Tulum local resources
The Draw to Tulum
Tropical magnetism.  We could go on and on, but to truly appreciate the nature inspired vibration of Tulum you need to go. If you are looking for the best beaches in all of Mexico, you simply must go.
The sublime natural beauty of the Tulum beaches, the surrounding ruins and jungle cenotes deliver paradise, culture and plenty of adventures. The magnetic vibe of this magical place, as it is so often described, can be a little intoxicating and addictive. People tend to come back for more "Tulum time" and it's part of the reason this sleepy Caribbean fishing village is waking up.
Tulum is Growing
Ten years ago, there were no paved roads or street signs.  Today (2014), almost all the city streets have been paved and they all have names.  Tulum now has 3 stop lights from end to end but "rush hour" is still mostly having to watch out for a mix of rental cars and scooters, pedestrians, taxis and dogs. That's just for now, make no mistake Tulum is on the path of progress and Mexico wants to protect this crown jewel of nature. So far that planning has been on track, with infrastructure improvements in roads, electricity and water treatment.
Having a car is nice but you have local transportation options that can get you to Playa del Carmen or Cancun via the collectivos and buses. Bike riding or a scooter is the most simple and economical way to get around Tulum and the way a lot of people prefer to travel. Walking in the evenings is the best way to get some exercise, bump into a friend, and burn off the dinner you just ate.
Speaking of dinner….Tulum has become world renowned for it's eclectic and delicious dinning options. This is due in large part to the international mix of locals;  French, Argentinian, Italian, Thai, Mexican, Mayan, Austrian and German. There is an abundance of talented and creative chefs in Tulum and many of them are classically trained or continuing family traditions.
If you are a local, you have many wonderful activities to participate in, you will have a hard time deciding which way to go. Morning meetings for coffee, yoga, dance, art, jewelry making and music are probably the most prevalent activities down here.  However, with more and more expatriates arriving in Tulum, it won't be long before book clubs, card clubs and more start popping up.  Just walking downtown, going to the bank or grocery shopping will no doubt involve an encounter with someone you know.
Yes, Tulum has all the qualities of a charming small Caribbean town, the magnetic pull and energy of the place is something you need to experience for yourself.
Tropical Weather of Tulum
Next to the turquoise waters of the Caribbean, the consistent warm weather in Tulum has to be one of the biggest draws for expats. The annual average lows in the evenings are in the mid 60's-70's with average highs in the mid 80's – low 90's. Most days are blue skies with white fluffy clouds drifting by on the steady Caribbean sea breeze. The months of September and October tend to have the most rainfall. The coolest months are January and February.
The hottest and most humid months are June and July (90F days on average) This is also the rainy season and there can be prolonged periods of rain especially in the peak months of September and October.
Hurricane/Rainy season is from June – October with most of the threats coming in October. This does not mean that the entire season brings threatening weather.  Most days during this season are lovely but there is the chance of tropical storms brewing offshore.  It's amazing to watch them come in from the beach!   Most places are built to hurricane standards and expats know what to do in the event of a hurricane.
Cost of Living In Tulum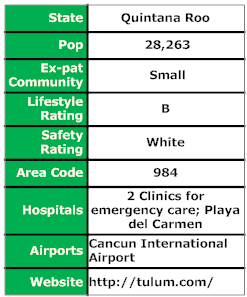 Tulum is one of the more expensive places to live in Mexico, it IS a tropical tourist destination that appeals to both the luxury resort adventure seeker and the "eco-chic crowd."
Eco friendly cabana resorts on the beach and nearby golf resorts juxtaposed with jungle lots and gated ex-pat communities show the range and contrast of vacation and lifestyle options. The common audience elements that most people share is an appreciation for simple luxuries, tropical Caribbean nature and a sense of adventure.
Especially on the beach where you are a captive audience, you may find the prices one the beach closer to what you are paying back home. But, Tulum is also like 2 towns in 1, there is the beach, and there is the town of Tulum. IF you live more like a local, shopping for groceries and eating at local restaurants in town, you'll save a lot of money living for about 30% less than you can in the average U.S. cities. You'll save a lot more if you are coming from places like NYC, Boston, The West Coast or any resort "town" in the U.S.
Depending upon your standards and circumstance, you can live as inexpensively or as lavishly as you desire.  The basic commodities are similar no matter what your economic position is.
Gas ($3.35 USD per gallon), water ($6.00 – $10.00 USD per month), and local fresh foods such as fruits and vegetables, fish, eggs and pork, are the most affordable way to eat and produce is 50-70% cheaper than US.  When eating out, you can go to "local" joints and have a healthy meal for around $50.00 pesos or about $4.50 USD.  Dining on the beach or at a more upscale restaurant in town will be more expensive and the prices range from $100.00 pesos a dish – $300.00+ pesos a dish.
The most expensive utility in Mexico is electricity.  You have to be conscientious of your usage.   The way most people do this is by not running too many electrical appliances at the same time and only using the A/C when absolutely necessary.   When you get your first bill, you will understand the meaning of  "be conscientious of your usage".  There is a reason stores leave their lights off until a customer walks in.
Inventory on rentals can be tight.  You can find cabanas and single room studio's from $200 – $350.00 a month or 2 bedroom, furnished condominiums from $550 – $1200.00 USD a month.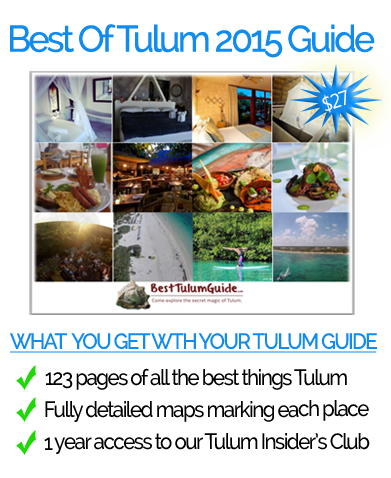 Average Prices of Real Estate
Prices for real estate range anywhere from $85,000.00 for a small 2 bedroom home to $2,000,000.00 + for an oceanfront hacienda.  Modern and newer condominiums in town start at around $125,000.00.
Land in this area is for sale and ranges in price from low to high as you get nearer to the Caribbean.
Mortgages are available but the interest rates are prohibitive.  Cash deals, or private financing is the favorable approach.
Make sure that you get title insurance when purchasing a home or land in Tulum and use a Realtor from a trusted name or one who was recommended to you.
Click here for more insight on buying Tulum property for sale.
Health Care
Tulum has 3 small hospitals, all are capable of handling emergency care and 2 of them have minor surgery facilities. One of them, Tulum Hospital, on Hwy 307 (main ave.) on the south end of Tulum, has English speaking doctors.  The hospitals are limited in space and equipment, so for anything major, they will refer you to Hospiten in Playa Del Carmen or to the hospitals in Merida or Cancun after you have been stabilized.  There are ambulances in Tulum if you need the transport.
There are a number of hospitals and clinics in Playa del Carmen, many with English-speaking doctors.  Medical facilities include Playa Med Hospital, Clinica Medica del Carmen, Hospiten Riviera Maya and Buceo Medico Mexicano, which specializes in diving-related medicine and has a hyperbolic chamber and emergency ambulance on call.
In fact, Hospiten Riviera Maya Hospital, which is located on Highway 307, right next to PlayaCar and Sams Club, has a direct billing relationship with IMG, International Medical Group.  IMG offers private, major medical health insurance to expats who live outside their home country 6 months a year or more.  You can choose to have health insurance coverage in the U.S. and Mexico, or for less money, exclude the U.S. coverage.
If you live in Tulum, you have health insurance options:  Mexico has a Social Security System which is free at the point of delivery for Mexicans as well as foreign nationals with a Residente Permanente status.  Foreigners living in Mexico without full immigrated residency status can purchase the IMSS health insurance for about $300.00 US a year.  For more information on IMSS:  Click Here
Infrastructure
Airport
To get to Tulum from the U.S. or Canada, you will use the International Airport in Cancun (CUN). Cancun International has hundreds of daily flights to and from 21 cities in the United States, including Miami, Dallas, Houston, Los Angeles Chicago, Newark, New York, Boston, Philadelphia, Atlanta, Charlotte, Cleveland, Washington, DC, etc., and to and from seven cities in Canada, Montreal, Toronto, Winnipeg, Quebec, Halifax, Ottawa, and Calgary. For most of these cities, there are multiple daily flights giving you a good choice of departure/arrival times.  The airport is about 1.5 hours N of Tulum.
Marine Ports
Puerto Aventuras is the closest marina to park your boat – 25 minutes north on the highway.
Banking
There are several banks in Tulum including BBVA Bancomer, HSBC, Scotia Bank and other smaller branches. ATM machines are every where that dispense pesos and dollars.
Veterinarians
There are several different veterinarians to choose from.  Ask for a referral from a local neighbor to choose.
Mail Delivery
There is a post office in Tulum but mail delivery is VERY sketchy.  If you live here, you want to go paperless as much as humanly possible and pay your U.S. bills online.  UPS and Fed Ex do deliver here but it's very expensive to have anything shipped from the U.S. or Canada. Savana, the local "fax, mail, print" shop, will accept a package for you for a nominal fee.  When your package arrives, they will write your name on a board.  Once you get to know the owner, she may call you to let you know your package has arrived.
Churches
Lighthouse Church – English speaking, non-denominational Christian Church – Tulum – 10:00 a.m. Sundays Lighthouse Church Puerto Aventuras – 2:30 p.m. Sundays
Playa del Carmen – 6:30 p.m. Sundays
For more information: www.lighthousechurch.mx
There is also a Mormon church on Main Street and many Spanish speaking Catholic churches throughout Tulum.
Crime Rate
Tulum has an extremely low crime rate.  The largest crime complaint is theft due to "opportunity".
As quoted from the U.S. Travel.State.Gov website, July 2013:
"The Mexican government makes a considerable effort to protect U.S. citizens and other visitors to major tourist destinations, and there is no evidence that Transnational Criminal Organizations (TCOs) have targeted U.S. visitors and residents based on their nationality. Resort areas and tourist destinations in Mexico generally do not see the levels of drug-related violence and crime that is reported in the border region and in areas along major trafficking routes."
"Quintana Roo: Cancun, Cozumel, Playa del Carmen, Riviera Maya and Tulum are major cities/travel destinations in Quintana Roo : No advisory is in effect."
The state of Quintana Roo and city of Tulum is far removed from any border drug related crimes.  The most prevalent crime in this area are non-violent "crimes of opportunity".
Crimes of opportunity are instances such as:  If you forget your wallet in the cab, it is not likely anyone will turn it in for you.  If you take a bike ride and leave your bike unchained for more than a few minutes, your bike may not be there when you return.  If you leave your sun glasses on a table at a restaurant, they may be picked up and no one will have seen who left with them.
Although your possessions may come and go if you aren't careful, the degree of violent crime is very low.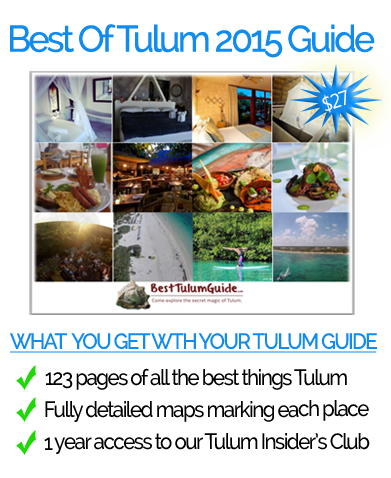 Getting to Tulum
Driving and Border Crossings
Make sure you have gathered up all of your necessary documents before bringing your car to Mexico.  Make sure that you have your Mexican auto insurance before you cross the border.  The most simple, and quickest way to purchase auto insurance is on-line as it will be one less thing to do at the border.
With any border crossing you use, it is better to get an early start and cross in the morning hours.  This is just in case you have any hiccups, you will have the day to sort it out and still get to a destination with a decent hotel for the night.  Never drive at night.
Entering at the Brownsville border crossing is the most direct route to Playa Del Carmen, although there are many points of entry.
Flying
There are two airports you may use to get to Playa Del Carmen.  The largest, most popular airport is Cancun International Airport.  It's located about 45 minutes North of Playa Del Carmen on Hwy 307.  International flights leave out of CIA all hours day and night and so do the cabs, collectivo's, and shuttle services to take you to your final destination.
There is also an airport in Cozumel.  If you choose to fly into Cozumel, you will need to take a 30 minute ferry ride over to Playa Del Carmen.  The ferry ride is safe and fun as you will probably see dolphins swimming next to you.  When you get to the dock, you may be another 20 minutes to your destination by cab.
Taking Your Pet   
Re-locating your pet to Mexico is one more thing to prepare for.   Driving into Mexico with your pet is much more simple than flying in with your pet as airlines have very strict guidelines you must adhere to as well as black out dates.
For More Information on bringing your pet to Mexico:  Click Here
Call Your Bank
Call your bank and credit card companies to notify them of your plans to travel or move to Mexico.  It is not necessary to carry a lot of cash, and not recommended, as banks and ATM's are prevalent in Tulum. Most merchants and restaurants accept U.S. credit cards, however, to avoid a block on your debit or credit card, notify them of your travel plans.  U.S. dollars are accepted everywhere, but you will get a better exchange rate if you use pesos.  All ATM machines can dispense pesos and some dispense dollars.
Calling Tulum
To call into Tulum, dial the following sequence: 011-52-984, and then the 7-digit local number. 011 is the code for international telephone connection, 52 is for Mexico, and 984 is the area code for Tulum and Playa Del Carmen.
Generally speaking, the real estate gets cheaper the farther from town and the beach you go.  There are also a number of self-sustaining, eco-friendly, "planned communities" popping up farther inland from Tulum.