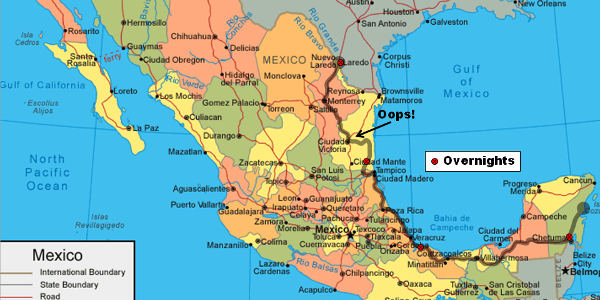 by Ron Burdine
After five days of driving from Denver, Colorado to Tulum, Mexico, I have arrived! What follows is a recap of the high and low-lights of an interesting drive through a beautiful country.
DAY 1: We (my brother-in-law, Rich, and I) left Denver at about 6 pm, and nearly made it to Amarillo, Texas.
DAY 2: The second day, our goal was Laredo, and the plan was to spend the night there.  We made it around 11 pm.  We stayed on the Texas side of the border, and double-checked the paperwork for crossing the following morning.
DAY 3:  We stopped off early before our crossing to get our Mexican auto insurance , driver added, and driver change was made as common sense dictated that Rich should do most of the driving.  Due to the jam-packed car, and the resultant inability to move the passenger seat back, Rich's 6' 5" frame forced his knees into the glove compartment.  If the airbags had deployed, he would have likely have ended up with a broken neck.  He had made no comment about it until three hours into the trip.  At that point, he drolly observed that we may have to hire a winch to pull him from the car as his knees were starting to lock up.
The entry into Mexico went much smoother than expected – a nice surprise!  The planning and paperwork done in advance proved to be a big help, as did the multiple copies I had of everything.
Right out of the chute, we got in the wrong line, but were directed to follow the numbered steps/lines 1-4.  Naturally, we went right to Line 4, bypassing the first three.  Line 1, show your tourist paperwork.  Line 2, copies.  We never figured out what the purpose of line 3 was – other than to tell you to go to 4.  Line 4, show your vehicle paperwork.
Jammed into the back of the car with the remainder of our disposed of belongings was my faithful dog, Yeller. Yeller was a big feller and this seemed to dissuade the border authorities of the necessity of checking to see if what we said we had in "those" boxes matched what was actually there.  Knowing that the big dog came out with the boxes, conferred complete veracity to our customs list as far as they were concerned.
And so, we crossed the border and started down our first Mexican highway to Monterey – number one of many toll roads.  We were asked to pull over at the 17 mile checkpoint where several very serious 19 year-old kids, wearing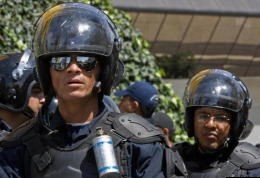 camouflage and wielding machine guns, proceeded to inspect the car.  They take customs inspections seriously in Mexico.  But, as it turned out, they never asked us to unpack much of anything, and they definitely did not want to see anything from the back that would require an off-load of "ol' Yeller."  Rich and I were both excited to clear that hurdle after hearing of three-day long border crossings caused by lack of paperwork, and/or the right permits.  High five – we were in!!
The road to Monterey was great – a nice four-lane toll road.  But, be aware that if you ever make the drive, you need to have lots of cash for the tolls.  We spent over $200 (and it's up to $300 today) for the toll roads – you'd think they'd be paved in gold!
The problem with much of the Mexican highway system is that no one planned for the kind of traffic that a highway brings in, so they go right through the middle of town, and they get narrower as they go – like a funnel.  We made great time to Monterey, but once there, simply getting through the city took an hour and a half.  And, the traffic was brutal; bumper-to-bumper, with people randomly crossing the street.  Between trying not to get hit, trying not to hit pedestrians and making sure we were still on the right road, it was the epitome of a very stressful experience.
Our first wrong turn was made just southeast of Cuidad Victoria while trying to take a shortcut recommended by someone who has made the drive several times.  We wound up on a really cool road that wound its way through some rural areas, and ended up costing us about three hours.  But, it was so picturesque that we didn't mind the detour. However, finding a place to stay overnight in the "middle of nowhere" was a challenge.
We finally found a Pemex station about the time it got dark, but the nearest hotel was an hour farther down the road.
For the most part, we followed the rule of not driving at night.  When we told a local we were thinking about trying to make Tampico that night, he strongly advised against it because of banditos on the two lane roads after dark.  As a result, we ended up in a charming little town called Aldama. We got a cheap, clean room, and ate tacos at the palapa on the corner . . . $11 bucks for the two of us, including the tip, and it was great food!!
DAY 4: For some reason, Rich and I had the idea that we could make Chetumal today, albeit with a late arrival, followed by a leisurely day driving up the Caribbean coast on Sunday. In hindsight, this almost looks delusional.  After getting to Tampico on a two-lane highway which had been a pretty good road, we re-entered the funnel and spent an hour or trying to get through it.  We finally made it through, found the right road and paid our toll.
Note to self:  Just because you pay a high road toll does not mean the road is good!!  This was to be our first experience with a really bad Mexican road.  It began, initially, with two lanes, but shortly thereafter culled itself into a single lane with random potholes of all sizes everywhere.  After a couple hundred miles of this, we finally made it to Tuxpan – also known as the "vortex."  Here, we cleverly avoided "Centro" believing we had found the bypass, but ended up doing a complete loop of the city which brought us back to our starting point.  Wheee . . . that was fun!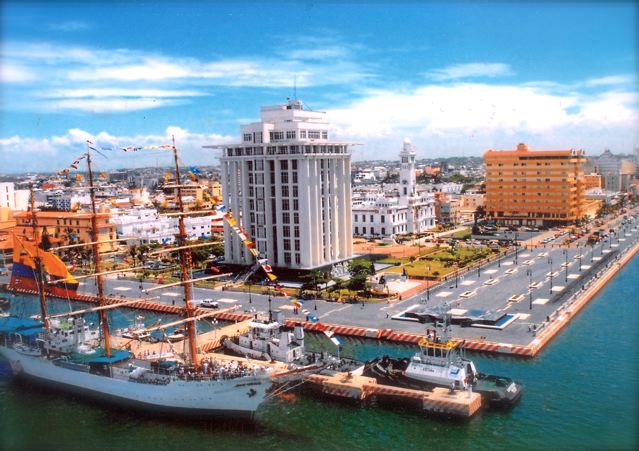 Eventually, we found the road to Veracruz, a great road for almost the entire first half, but which then disintegrated into a construction and pothole-ridden obstacle course – a condition that was rapidly becoming the norm for the second half of our trip.
Veracruz was surprisingly easy to get through.  They actually put the highway around the main part of town. Tres unique!!  Our working hypothesis was to get to the south end of Veracruz, find a hotel and call it a night – it was getting dark.  We were cruising once again, had a nice four-lane highway and were making good time.  But, where were the hotels?!!  No exits,  just open highway at night.  We drove on (there were no other clear options at this point) hoping to see some sign of life, and after only 70 miles, spied a sign indicating a major junction and a Pemex coming up.  Excellent!!  Another concern was that the fuel was running low.  We pulled in and found the Pemex closed!!  So, here we would spend the night. Okay, we're flexible.  Unfortunately, there were only two hotels and neither was a four-star option, or any star, for that matter.  We chose what appeared to be the better of the two, and again, ate with the local roadside taco vendor – once again getting good food at a bargain price.
The hotel was another story altogether.  We both slept in our clothes and skipped showers in the morning for sanitary reasons – those being that we were better off grubby than compromising our immune systems.  It took me a mere three hours that night to fall asleep because I kept picturing clearly in my mind what showed murkily below the see-through sheets.  I just kept telling myself, "You're camping!!  You're just camping.  You've done it before.  You have slept in the dirt.  Relax . . ."  Yeah, right!  We were so thankful to get back in the car that morning that we got a very early start!  Even Yeller seemed "excited" to get back into the kennel!  It had been a really rough night.
DAY 5:  Because of our early start, light traffic and, once again, good roads, we made great time and Chetumal was finally in sight.  We made it to the Chetumal by-pass around 8 pm, and decided to stay in Bacalar rather than trying the drive at night. Working hypothesis adjustment #36 – Monday would be the casual drive day.
We found a cabana-type place to stay with an American woman host who was quite the raconteur.  Luckily, she had been drinking that night and we were able to convince her that Yeller was a good risk.  He loved the place which was right on the beautiful Bacalar lagoon.
DAY 6:  We made an out-of-the-way stop at Mahahual, to see the damage done by hurricane Dean.  Mother Nature can be intimidating, and occasionally tweaks the human psyche regarding the importance and power of humans on planet Earth.  Dean was one of her tweaks.  It is very humbling to see two steel beams twisted like pretzels and bowed to the ground.
However, since humans are not given to humility for extended periods of time, we soldiered on and made Tulum about 1:30 pm.  Awl Right!!!  Yessssss!  Hooray!  Whoot, whoot!!  We did it!  High five!  Who's da man, I mean, men?!!
We capped the trip by immediately heading to the beach to pay homage to Mother Nature!