Get Mexican RV Insurance Right Here!
Mexico on my Mind provides the ability to get an instant quote and buy Mexican RV Insurance online that best suits your needs. Policies can be purchased on a daily basis, six months or annual terms. Coverage options include basic RV Vacation Liability insurance, to comprehensive collision coverage with specific policy options designed for RV travelers, including coverage for golf carts and windshields. Get an instant quote now! Mexico on My Mind provides peace of Mind when you RV in Mexico.
Premiums are primarily based on these factors:
Number of Days in Mexico
Value of vehicle
Liability Limits
Level of Travel, Legal and Roadside Assistance Coverage
Option to Purchase "Fixed Deductibles"
Option to Purchase Vandalism and Partial Theft Coverage
Liability coverage can extend from $50,000 to $500,000. All our liability policies carry medical coverage for you and your passengers, guaranteed legal and bond assistance, roadside and travel assistance. All Repairs and Claims Can Be Settled in USA or Canada.
Optional physical damage policies will protect your own RV, travel trailer, or 5th wheel against collision, fire, overturn, theft and vandalism.
Is it safe to RV in Mexico?
Traveling in Mexico by RV is as safe as driving your car in Mexico, but does require a bit more planning.  Unlike the U.S. which is dotted with campgrounds and RV parks, Mexico has only a fraction of those roadside options.  They are out there and you should do some route planning for those spots, but you can also almost always grab a spot at a 24 hours gas station for the night.
Take the same precautions you would if you were driving your car; stay on the toll roads-they are well maintained and patrolled, avoid known hot spots in certain regions of Mexico and never drive at night.  Plan your daily driving itinerary based on on where you plan to stop for the evening and leave plenty of margin for error in estimating your arrivals.
How much is monthly RV insurance in Mexico?
There are a number of variables that factor into the average monthly premiums for Mexican RV insurance. Premium factors include; the size of coach or trailer, make, model and year of the RV and length of stay and region of Mexico you plan to travel to, or live in.  In general you will pay between $175-$350 USD per month for RV insurance in Mexico or about  $5.85-$11.65 per day, depending on the above mentioned factors.
What insurance do you need for an RV in Mexico?
Just like your car insurance in Mexico, liability is minimum required insurance in Mexico. Unlike your car insurance, it is an expanded liability as a living space, called a "Vacation Liability" policy and encompasses some space around your RV.  You may also opt for a full collision policy which also includes additional medical coverage for passengers or other specific features to meet your needs. The maximum liability limit in Mexico is approximately $300,000 USD and we recommend getting a policy that will cover that full liability risk at a minimum.  Especially driving an RV.  You also have additional coverage options not available for cars.
RV insurance requires special coverage that is not offered on a typical auto insurance policy. Below are the RV coverage options offered:
Vacation Liability (minimum): Provides general liability coverage while the RV is used as a vacation residence. This coverage will follow you on your travels, from one campsite to the next and it will also cover the perimeter of your campsite you may be legally responsible for. If you live in Mexico full time, we would replace this Vacation Liability with Full Time Liability.
Emergency Expense: Pays for temporary living facilities, transportation, and cost of returning the RV in the event of covered loss more than 50 miles from home.
Diminishing (or Disappearing) Deductible: By adding this optional coverage, your deductible is reduced by 25% following each claim-free policy term.
Replacement Cost for Personal Effects: This is an optional coverage that replaces the personal contents inside your RV that are ruined during a covered loss or stolen during a break-in. This would cover anything from pots and pans, clothing, bedding and lawn furniture to more expensive items like jewelry and electronics.
Extended Utility Trailer Coverage: This option will cover your utility trailer that is being pulled behind your RV. Every RV policy automatically provides $2500 worth of coverage, but we can also increase that coverage to insure more expensive trailers.
Golf Cart Coverage: You can add coverage to your RV policy to protect your golf cart that is not licensed for street use, but rather used in parks or campsites.
Windshield Replacement Coverage: Most RV owners know the high expense of replacing their motor home windshield. By adding this optional coverage, your glass will be protected with a low deductible. (Offered in most states.)
Mexico Physical Damage Coverage: This option extends comprehensive and collision coverage into Mexico. The Mexican Liability portion is sold separately, but is also available through our agency.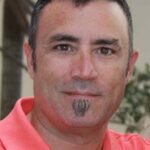 Our claims service is top rated with each of our three select company policies. Roadside and travel assistance insurance is also a feature that eases your travel needs and is readily available from our professional bilingual representatives.
No matter where you are located or traveling in Mexico, the companies we work with will have an adjuster in your area. Purchase a year round policy or a shorter term policy for vacation travel plans. If you have any questions about your coverage or you would prefer to get your insurance over the phone, give me a call personally, Monday through Friday 9 AM to 6 PM, I am happy to help. You can also send me an email through our contact form, I will get back to you right away!
See you in Mexico!
Ron Burdine
Founder of Mexico on My Mind
Mexican Auto Insurance Comparison Charts
Standard Mexico Auto Insurance Chart

Deluxe Mexico Auto Insurance Chart
Read More About
Mexican RV and Travel Trailer Insurance
Choose The Coverage You Need
Get Your Mexico RV Insurance

NOW

Online or
Call Us Toll Free


1-888-461-2099