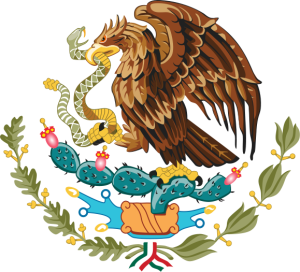 Mexico safety is near the top of the list of concerns for relocation to Mexico.  Is it safe to live as an expat in Mexico? The short answer overwhelmingly is, YES! Virtually all the expats living in Mexico are quite safe and comfortable with their cities or towns of choice. Why? Because they have chosen to live in areas that are safe to live within Mexico.
Expats make relocation choices with similar criteria to what you would consider with any move. People decide what they want from their Mexico experience, location, climate, cost of living, a beach, the mountains, culture, safety etc. Expats research the cities and places to avoid, settle on a safe town, a safe neighborhood, and start networking with a community of expats in the area they are headed to. These are some of the primary factors of how and why expats are safe in Mexico!
It is estimated as of 2019, there are over 1.2 million expats from the U.S. and Canada currently living in or retired to Mexico. Canadians count for approximately 6,000 of those expat numbers, but there are another 125,000+ Canadians spending at least part of the year in Mexico annually, according to Canadian Department of Foreign Affairs and International Trade. An expat in Mexico is defined as someone who has legal temporary or permanent residency status in Mexico.
If we were to include regular returning snowbirds, the number is quite a bit higher. Americans and Canadians can travel back and forth on a Mexico tourist visa good for 180 days-and do it year after year.  You can even leave the country for just a few days and return with a renewed visa, good for another 6 months. 
These numbers also do not include thousands of undocumented expat residents in Mexico. We are being conservative with the 1.2 million number and it continues to grow every year. Here's the list of cities and towns with the largest expat populations in Mexico (excluding border towns):
Guadalajara, Lake Chapala, Ajijic, Jalisco (the largest per-capita population of expats-around Lake Chapala)
Mexico City, DF
Playa del Carmen and Riviera Maya (includes Cancun, Cozumel and Tulum), Quintana Roo
Puerto Vallarta, Jalisco
San Miguel de Allende, Guanajuato
Los Cabos and Baja California Sur, (includes Todos Santos, Los Barriles and La Paz)
Mazatlan, Sinaloa
Cuernavaca, Morelos
Ensenada, Baja California
Here is a complete state by state breakdown of the annual reported total homicides in Mexico from 2015-2020. Ranked from most to least by state.  This is also a great link to track general crime statistics by state in Mexico.  The cities and towns we highlight and recommend are indeed safe, there are also parts of Mexico that are not safe, remote regions and known hot spots raise your personal risks as they would in any other country.
What is Mexico safety in lifestyle like as an expat?
First, expats typically have done their homework and hopefully have spent some time in the town or city they are planning to live in. This is the most common route for expats in Mexico, they fall in love with the place, and start looking into issues like safety, cost of living etc. before making those choices of a place to settle in Mexico.
For the majority of expats living in Mexico it is a very rewarding and enriching experience.  Most expats get more from the move than expected, which has been the case for myself and many others I have met over the years.  Most expats are initially drawn to Mexico for the mild climate or beaches and lower cost of living, and Mexico delivers!  What most people don't expect is to fall in love with the culture and the people!
After some initial culture shock, most expats come to appreciate the "manana" culture and more relaxed approach to life. Although an adjustment, the escape from a hectic life is one of the other big reasons people are attracted to Mexico. A slower pace of life, beautiful people, new friends, amazing food, art and history and less consumerism have been a few things I personally didn't expect to be positive highlights of our Mexico adventure!
Mexico Crime Stats: Hard truths, statistics, and safe living tips from a 12-year expat resident of Mexico.
It is really going to happen! You have shifted from planning to execution, YOU are moving to Mexico. The vision of your adventure is taking shape. Naturally, you start sharing your exciting plans with friends and family! Then your bubble bursts. Some of the initial feedback you get from your typical media-influenced American or Canadian friends goes something like this:
"You must be joking!" "Are you crazy?" "Have you seen Narcos? You could be killed or kidnapped!" "Mexico is dangerous."
A cautionary comment somewhere along those lines. We all have concerned friends and family when you share the Mexico move news, right or wrong, the headlines and media coverage show Mexico to be a generally dangerous place! As a full-time resident, like other good people in Mexico, we also cringe at the news of violence, it makes the local and regional news in Mexico in graphic fashion. Indeed, media coverage, non-fiction books, movies and TV have presented provocative portraits of Mexican cartel violence in North America.
If you have been paying attention, this problem is not just in Mexico. Yes, those bad guys are seriously dangerous with little regard for human life.  The proof is shown in the rising numbers and it also coincides with the rise in human trafficking; mostly flowing through Mexico from Latin America.  Refugees and potential immigrants looking for a better life, all must travel through Mexico to reach the U.S. or Canada.
Mexico Crime: Bad News On the Murder Trends in Mexico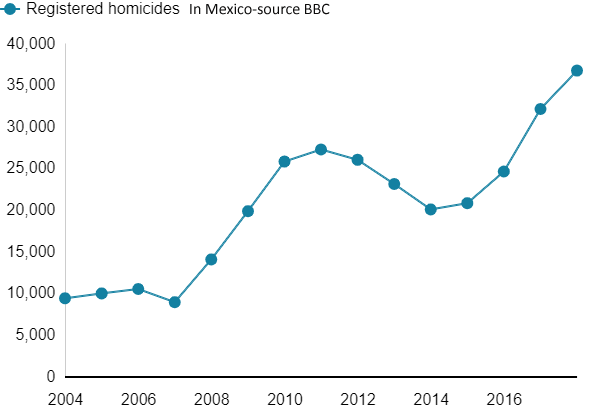 The Mexico Cartel Factor
The cartel is an overt (yet rarely openly spoken about) part of Mexican society. Like a big corporation, they are in big business with most of the product demand coming from the US and Canadian markets-they deliver. They also support the local economies in Mexico, where product may come from or passes through on it's way north. Cartels sell in tourist locations where, again, the demand from foreign tourists is "high." People on 1-2 week benders, who are doing things in Mexico they would not consider doing at home. See: Popularity of AI resorts – unlimited everything all the time.
"The Cartel" is part of all North American countries; U.S. and Canada included, they are more visible and comfortable doing business in Mexico, where they wield real political influence. There is a much lower-profile north of the border, where they are higher up in the supply chain. 
Violent people who sell drugs, do human trafficking, and carry big guns are dangerous characters to associate with. They also kill each other regularly in territorial skirmishes and all-out turf wars. A lot of the frightening murder statistics come from that category, the crass silver lining.
Sadly, another large part of the casualties come from human trafficking through the southern borders of Mexico. This is now estimated to be a $150 billion annual enterprise for cartels. The murder statistics continue to rise as battles for territory and human trafficking have expanded. That is the harsh reality of murder in Mexico.
Mexico cartels are dangerous, no doubt. So, if you get involved with those folks in Mexico-or anywhere for that matter, well then, your friends may be right, you may be crazy too!
Before you start looking into another country to move or retire to, let us interject some common sense and reality into these frightening murder statistics. Statistics is an interesting discipline, especially when we segment the data to tell the actual Mexico expat story. When you isolate tourists and expats in the equation, Mexico starts looking safer than traveling to Orlando, Florida or a life in most of American Suburbia. As an expat or tourist with common sense and no connection to illegal activities or cartel affiliation, your odds of being murdered in Mexico fall somewhere between getting struck by lightning and winning the Powerball lottery! The following U.S. State Department graphic and statistics account for any Americans who died in Mexico 2017-18 – not just homicides.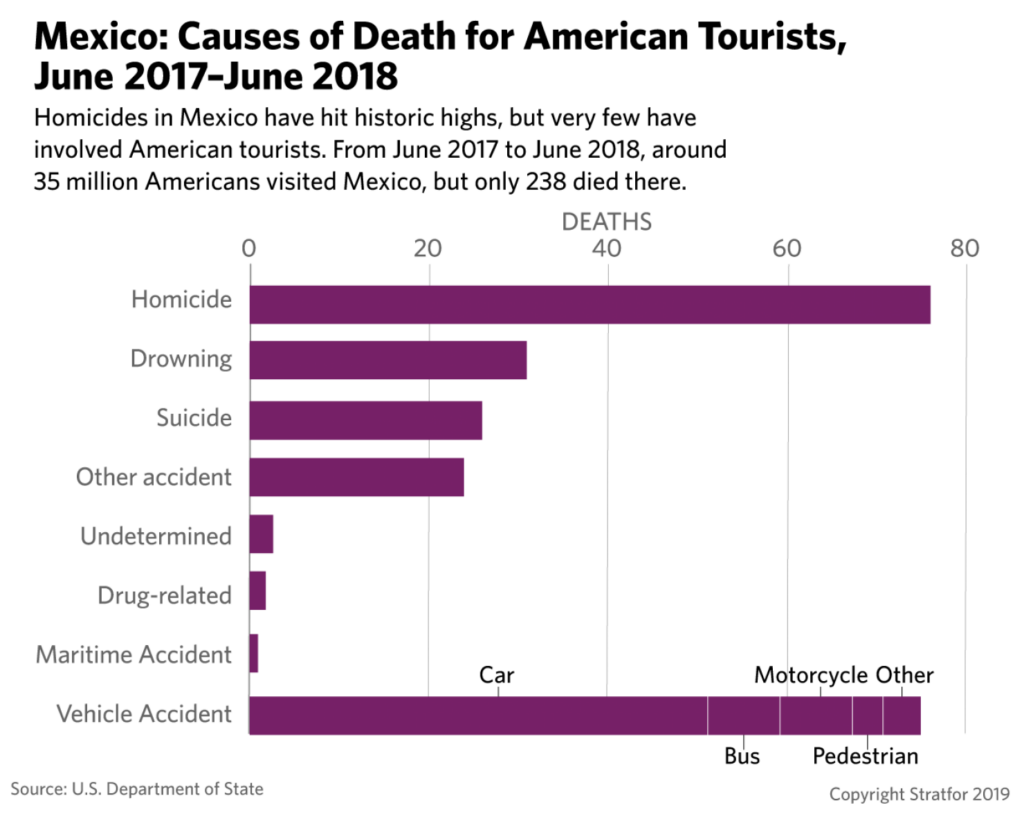 Between June 2017 and June 2018, Mexico had more than 35 million US visitors and 238 of them died, 76 of them were homicides. Of those 76 deaths, guess what? According to the U.S. State Department, most of those victims were involved in drug or human trafficking themselves! It is notable that most of them occurred in U.S. border towns. The others include crimes of passion and a few that were in the wrong place at the wrong time. You can get into more details at the U.S. Department of State website. The cartel targets expats and tourists for marketing and sales, NOT violence!  Just like big pharma, they want to keep you, the customer, alive for as long as possible to consume their perishable products.
Make no mistake, common sense and awareness go just as far in Mexico as anywhere else in the world!
8 Personal Safety Tips for Life in Mexico (beyond not signing up with the cartel):
Choose a safe neighborhood to live in.
Secure your home: CCTV,walls, gates, lock doors and windows, add window bars or a dog if needed-crimes of opportunity are more common than violence in Mexico.
Avoid known areas for drug deals and bad neighborhoods.
Don't buy street drugs. Mexican pharmacies actually offer more than U.S. See medical/dental tourism.
Do not drive on dark desert highways at night.
Get home at a decent hour, not much good happens after 2am. 11pm is late for me!
Make friends with other expats.
Pay attention to your surroundings.
Bad, random things happen to people all the time in all parts of the world. We can simply do our best to minimize and mitigate risk that comes with life on this planet. From my personal perspective and the vast majority of expats actually here, there are safe places to live in Mexico. It is arguably less violent than the U.S. when you take all violent crime into account.
Mexico Crime Stats vs USA
Fun Fact!  The United States has 88 guns per 100 people.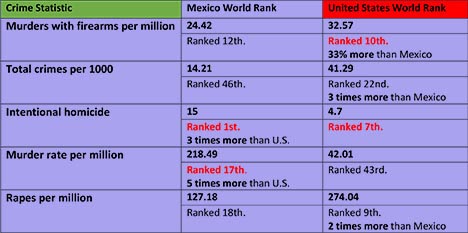 Suffice it to say, "nobody's perfect." Clearly there are dangerous places within any country in the world. Where you decide to live, the social groups you spend time with, and the areas you visit frequently in those countries will determine how safe you are! The same holds true for the U.S.A., Canada, Europe, Asia and Mexico. For example, as an American,  I am not going to cruise the south side of Chicago after midnight or take a shortcut down a dark alley in New Orleans.
Mexico has over 761,606 square miles and the majority of that territory is peaceful territory where locals and expats live and tourists visit.  In fact, Americans and Canadians are less likely to face violence in Mexico than a lot of U.S. cities, especially in Mexico's most popular travel and expat destinations. See my safety tips for Mexico-above, use them, choose a safe place to live and you will be as safe in Mexico as any other safe part of other countries!  I hope to see you on the safe side of Mexico! Get our free guide to living in Mexico here.
IN THE MEANTIME: Please ALWAYS refer to the U.S. State Department for the most current safety conditions and travel warnings in Mexico. US State Department Travel Advisories for Mexico. Make Mexico Happen!
Article resources:
Canadian Department of Foreign Affairs and International Trade