Unique among the mix of peoples who have become Mexico, are the Yucatecans. Once an independent country, by mutual agreement, Yucatan became part of Mexico in 1821, went independent again in 1823, and finally rejoined Mexico for good in 1825. However, the defining observation about this blend of Mayan, Spanish, Caribbean, French and Middle Eastern (yes, Middle Eastern!) cultures is still "Yucatecans first, Mexicans second!"
In addition to the well-known Riviera Maya on the eastern side of the Yucatan Peninsula, there are the states of Yucatan and Campeche on the northern and western sides. In state of Yucatan, Merida, the capital and financial and cultural center, claims a large, active ex-pat community while the beaches of the Gulf are preferred by a large number of "snowbirds" that join the fishing communities in the Progreso Corridor from November to April every year.
You can find almost any eco-environment you like in the state of Yucatan, except mountains (the Puuc Hills in the southern part of the state do not qualify).  It is home to the Gulf Coast, hundreds of cenotes, Mayan ruins – including the most famous Chichen Itza and an extraordinary, fascinating culture and people.
Campeche
Average Lifestyle Rating: C+ (range D+ to B+) Built in 1517 AD, and located on the southeastern side of the Yucatán Peninsula, Campeche is the capital city of the state of Campeche and an excellent retirement destination for several reasons. The most important are the low cost of living, affordable real estate, high degree of safety and a […]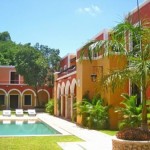 Places To Visit In Yucatan
Cenotes In the Yucatan, there are over 2,400 cenotes that have actually been studied and registered.  Here are some of the most popular: Ik-Kil
 – Located less than 2 miles from Chichén Itzá. Called the "Sacred Blue Cenote," it is a perfectly round well-type cenote with magnificent hanging vines and waterfalls. This is an ideal […]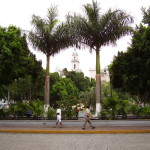 Merida – The White City
The White City is Beautiful Culture and Architectural History Average Lifestyle rating: B- (range D- to A+) Merida is, not only the capital of the state of Yucatan, it is the financial and cultural center.  It got its nickname, "The White City," in its early history because most of its buildings were white and the customary clothing worn by […]
The Progreso Corridor
Average Lifestyle rating: C (range from D- to A-) At the tip of the Yucatan Peninsula on the "Flamingo Coast" is a string of small fishing communities.  Beginning at Chuburna and running east on Carreterra 27 for about 50 kilometers to Telchac Puerto, these villages vary in size and modernity.  Progreso, largest of them, has a […]
Visit Campeche
Breaking the tide of the Gulf of Mexico, Campeche (Com pay CHAY) is one of the oldest colonial cities in Yucatán Peninsula, founded in 1540. In golden years, it thrived as the major port; trading timber, dyewood, silver and gold. An elegant city soon emerged behind the harbour, patterned with baroque style townhouses and ornamental […]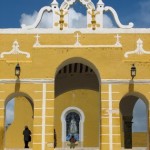 Izamal
Known as the "Yellow City," Izamal may be  the oldest colonial settlement in Yucatán state, located only 45 minutes from the capital, Mérida. It was founded in early 16th century, atop the pre-existing Mayan city of Izamal. As was the strategy of Spanish conquest, temples and buildings were destroyed, and a colonial township constructed from […]
Uxmal
Almost 80 km south of Mérida, the present-day capital of the Yucatán state, is the ruin of Uxmal (OOSH mal), an influential Mayan metropolis of the late classic period (AD 600 to 900). In its heyday, Uxmal's influence spread across northern Yucatán and included subjugating the neighboring settlements of Labná and Sayil. Today, it is […]