The Best Ways to Get To and From The Cancun Airport and Tulum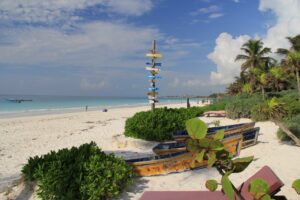 To get from Cancun to Tulum, there are several safe and reliable options to choose from. Your transportation selection from the Cancun airport to Tulum should be considered by you, or your group needs and itinerary.
For example, taking private transfers or a shuttle from Cancun to Tulum may make sense, unless you plan to go and explore the area; the cost of tours and taxis for excursions and errands add up-especially if you are in a private home, away from the beach. In that case renting a car may be a better choice.
On the other hand if you plan to stay at your resort on the beach or hotel zone, a transfer service or taxi is perfect! The size of your group, time and convenience will also be factors!  The fastest way to get from the Cancun airport to Tulum is by taxi.
The driving time between the Cancun airport and Tulum, without stops, and average traffic is approximately 1.5 hours. The 4-lane highway 307 is a straight 80 mile trip south to Tulum, with Puerto Morelos, Playa del Carmen, Puerto Aventuras and Akumal along the way.  The average speed on the highway is 100 KPH or about 60 MPH.
How do I get from Cancun to Tulum?
ADO Bus from Cancun Airport to Tulum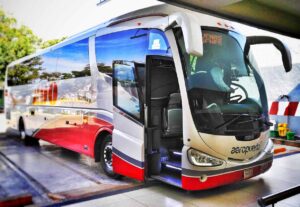 AVERAGE PRICE ONE WAY:$288 Pesos ($14.50 USD)
TRAVEL TIME TO TULUM: 2 Hours 15 minutes – ADD 30 minutes if you are making the connection in Playa del Carmen
BOOKING/RESERVATIONS: ADO Buses Mexico
The ADO busses are modern, air conditioned, well ventilated and comfortable, with plenty of storage for luggage. The ADO bus station at the Cancun airport offers direct transfers from the airport to Playa del Carmen and Tulum.  Buses run from the Cancun airport to Playa del Carmen at least every 45 minutes, more frequent during peak seasons, it can be as often as every 15 minutes.  From the bus station in Playa del Carmen you can catch another bus from there to Tulum, leaving every 45 minutes.
Direct from Cancun airport to Tulum: ADO also offers several daily scheduled direct express buses to Tulum without stops between noon and 10pm.  To find the ADO bus schedules for Cancun airport (CUN) and Tulum please visit their website here. https://www.ado.com.mx/
---
Shared and Private Airport Shuttle Services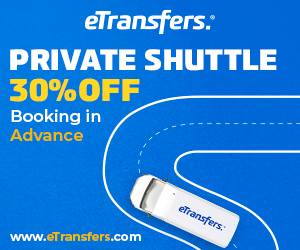 AVERAGE PRICE ONE WAY – USD: $50 to $80 per person (group discounts and round trip discounts may available from $30 per person for 6 people or more)
TRAVEL TIME TO TULUM: 1 hour and 30 minutes for private OR 1 hour 45 minutes – 2 hours+, with shared shuttle and other passenger stops
BOOKING/RESERVATIONS LINK: Book Shuttle Service Here
From the Cancun Airport to Tulum, shuttle services and van transportation are most common with small and large groups and families headed to the same hotel and plan to vacation together, at the same resort.  A great choice for family vacations at an all inclusive resort or staying in one location.  Most shuttle services are also now including on-board WIFI service.
Things to consider are longer travel times with a shared shuttle, and drop off locations. If it is not a direct Cancun to Tulum hotel transfer service, you will likely still need to take a taxi from a designated drop-off location to your hotel.  Most hotels also work with transfer companies directly and you may have an option to book those through your hotel or resort.
---
Taxi from Cancun to Tulum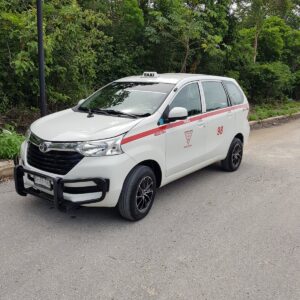 PRICE FOR CANCUN AIRPORT TAXI SERVICE TO TULUM: $1500-$2000 Pesos
TRAVEL TIME TO TULUM: 1 hour 30 minutes
BOOKING: At the Cancun Airport Terminals
Finding a taxi to Tulum at the Cancun airport is not a difficult thing to do, there are hundreds on standby 24/7, and you will be asked if you need the services of a taxi on your way out of the airport multiple times!  As you leave the airport terminals there are a number of taxi and transfer service options there.  ALWAYS negotiate and settle your rate with the taxi before you get in the taxi.
Authorized taxis for Tulum service will be white, and have a red or light blue stripe along the sides and will have an ID# on the side and back of the car.  The red striped taxis are officially Tulum taxis, the light blue striped taxis are from Playa del Carmen, but they can also take you to Tulum from the airport.
---
Rental Cars at Cancun Airport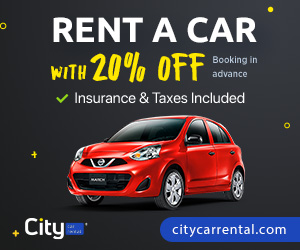 AVERAGE DAILY CAR RENTAL RATES-USD INCLDUING INSURANCE:
Small or Compact: From $35 per day, to Van or large SUV $200+ per day
TRAVEL TIME TO TULUM: 1 hour 30 minutes *plus car rental counter add 30 minutes to 1 hour
BOOK WITH OUR PREFERRED PROVIDER!
Renting a car at the Cancun airport for pick-up and return at the airport (or nearby rental car office) is the most economical way to rent cars from the Cancun area. Weekly rates are the best. It usually makes sense for convenience and logistics, and for transportation to the airport for your return flight.
The extra time spent at the rental car counter is well worth the time and money saved, with mobility and the return trip! Being mobile can make a big difference in your options for experiences and adventures in the Tulum area.  There are a lot of things to see and do in the area that require transportation or tours to access.
---
What is the cheapest way to get to Tulum from Cancun?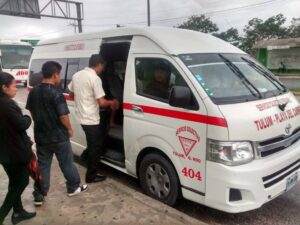 The cheapest way to get to Tulum is taking the ADO Bus to Playa del Carmen and then find a colectivo van going to Tulum.  The colectivo vans are white with a red or light blue stripe on the sides. There are many around the bus stations in Playa del Carmen.  The bus fare is around $180 pesos to Playa del Carmen and a colectivo van is $50 pesos to Tulum.  Be aware that there is very little room for luggage on the vans, travel light if you go for this cheap option.
---
How Much is Uber from the Cancun Airport to Tulum?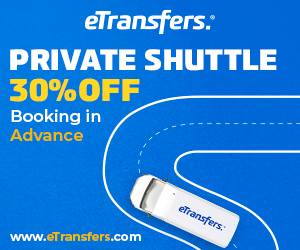 As of early 2019 Uber is operating again out of the Cancun airport to Tulum, but we recommend you proceed with caution for this option. There is a tremendous amount of political pressure from the local taxi unions who do not want Uber in the area. Both drivers and passengers have been harassed by local taxi drivers. If you can secure an UberX it should be around $50 USD for a ride to Tulum from the Cancun airport.  If anyone asks, just say a friend is picking you up!