The Sleepy Island is Waking up To
Tourists and Cruise Ships
Average Lifestyle Rating: B+ (range B- to A+)
Click here to view our directory of Cozumel local resources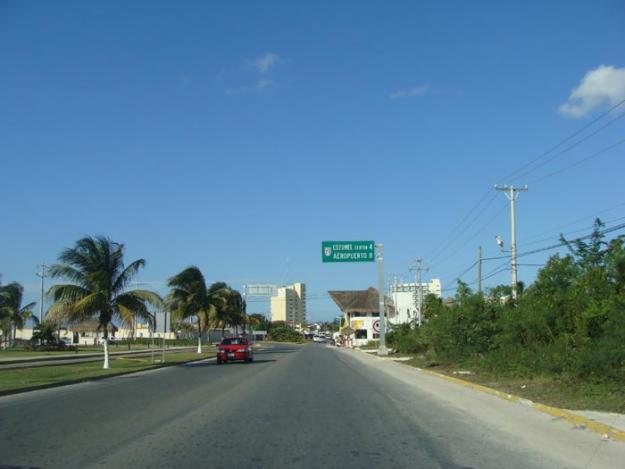 How does living on an island in the Caribbean Ocean sound? Exotic, glamorous, stress-free, infrastructure-deprived? Isla de Cozumel, off the eastern side of the Yucatan Peninsula 20 kilometers southeast from Playa del Carmen, may just fit the bill – except for the infrastructure part. With multiple ferries running back forth from Playa del Carmen all day long (and a third ferry that carries both you and your car), you have the benefits of an isolated Caribbean key, but the convenience of the shopping and services, when you need or want them, of a mid-size mainland city (or, if you take the car over, you can run up to  a larger place, Cancun).
Which is not to say that you ever need leave the island. Because you could arrive, never leave, and still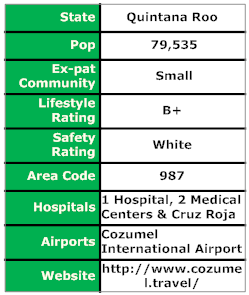 have everything you need. San Miguel, the main city of Cozumel, has an international airport with flights arriving and departing every day to the United States. San Miguel also sports two huge department stores, Mega and Chedraui, many fast-food chain stores, and a tourist section of town along the beach that is clean, bright and attractive. Add to that, the fact that the cruise ships all leave by 5:00 pm eliminating the hustle and bustle that tourists generate, and you really couldn't ask for more from a tourist meca.
There are two universities on the island, if you feel the need for more education. Cozumel also brags its own Mayan ruins, an historical lighthouse at either end, a large ecological park on the southern end of the island, two eco-water parks, Chankanaab and Xel-Ha, and some seriously good seafood. In fact, if you want good food, skip the fast-food chains and find someone to show you the "local" restaurants (which are not always recognizable as anything other than another home). It will be worth your trouble, if you like to eat. As the tourist trade has grown, so has the range and sophistication of the island's restaurants. Now, you can enjoy cuisine with a more international flavor, although you still can't beat the seafood, no matter it's national cuisine origin.
Home and apartment rentals are available on a "leased" basis from six months to two years. Or, if you want something more permanent, you can buy a condo in one of the developments that line the beach on the north and south sides of San Miguel. Although, $850 per month is the average rent, there are two bedroom places available for as little as $600 per month. Utilities average $120 – $250 per month, depending on your need for technology.
The Cozumel International Airport terminal was remodeled and expanded in 2003 and from there you can take direct flights to DFW, Atlanta, Houston, Charlotte, Toronto, Calgary, Cancun, Merida, Villahermosa, Veracruz and Mexico City via ten airlines.  San Miguel also has a full-service hospital, Cozumel Medical Center, with a wide array of specialties, hospital, diagnostic and dental services, and two clinics, Centro de Especialidades Médicas de Cozumel and Medica San Miguel de Cozumel.
If you are in the "B – A" income bracket and would like to live on an island, then Cozumel has everything you want.