BIG Surf in a Small Beach Town
Average Lifestyle Rating: B- (range C- to A-)
Click here to view our directory of Todos Santos local resources
Some old-hands believe that Todos Santos is not what it used to be (what is?). As its popularity has burgeoned and its gringo/mexicano ratio has tilted less sharply, it's no longer "untouched" by modernity. But though it is the second largest town in the La Paz (Baja capital) municipality, the overall feel remains that of the sleepy, small town (5,000+ population) in an agricultural area (once a sugar-production center with eight sugar mills). The area today is still an agricultural center, but sugar is no longer the "bread winner;" it grows many types of fruit and poblano chilies, in addition to having strong fishing and ranching communities. Todos Santos nestles between the Sierra Laguna mountain range and the desert – a quiet, tropical oasis.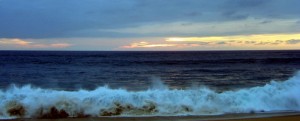 Todos Santos offers a wide range of activites, particularly those with an ecological slant.  You can have the chance to work the sea turtle nesting areas, engage with a plethora of local organizations and their activities: bird-watching (there are an incredible number and diversity of birds in this unique confluence of several eco-systems), hiking, snorkeling, surfing (there are excellent beaches nearby for surfing), kayaking, scuba diving, fishing, yoga and martial arts and last, but not least, "West African Drumming."
Eco-tourism is growing in the area, and may well be its economic future. It is also known as an "Artists' Community" for the  group of creative souls who followed well-known artist, Charles Stewart's example, and moved themselves and their work here. Handicraft shops, art galleries upscale restaurants, boutique hotels and restored colonial buildings have contributed to the gentrification and redevelopment of the town. The Hotel California is a favorite stop here because of the name association with the song made famous by "The Eagles."
It's about an hour in opposite directions to the Cabo San Lucas (south) and the La Paz (north) international airports. However, Todos Santos is the antithesis of Cabo San Lucas – a hot tourist center, and LaPaz – a city of 200,000 which is rapidly becoming an ex-pat hotspot. You can easily drive to Cabo, or La Paz, for some shopping, or a taste of the "high" life, then return within the same day to the peace and quiet of your "country" village.

The Centro De Salud, the local hospital is equipped to take basic care of emergencies, and has an ambulance to take patients to the primary care hospital in La Paz, or Cabo San Lucas.  There is a dentist and a local doctor in town. You can also find Holistic Health Practioners available. However, for extensive, on-going, or specialty medical services, be prepared for the hour's drive to La Paz or Cabo San Lucas.
If you're looking for a small town atmosphere close to great beaches, and two cosmopolitan metro areas, that offers a wide variety of activities and some incredible opportunities to whale and turtle watch, then Todos Santos is the place for you!!