Average Lifestyle Rating: B (range C- to A+)
Click here to view our directory of Puerto Vallarta local resources
Founded in 1851 (or 1859, depending on your source), prior to the 1960s, Puerto Vallarta was a small coastal village with ties to the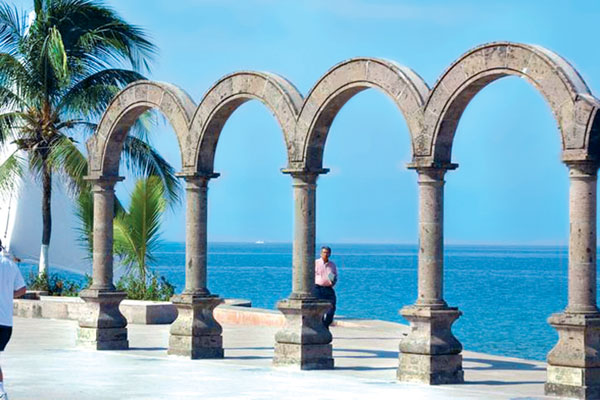 mining industry of the Sierra Madres. For decades, its land properties were tied up in legal disputes that required rulings by the Mexican government, with no resolution in sight. Even its historical and archaeological value was limited since there are no major "ruins" in the vicinity. However, in the 1960-70s, three unrelated things happened that moved Puerto Vallarta to the pathway of becoming a major resort.
American director, John Huston, filmed his 1963 film "The Night of the Iguana" just south of Puerto Vallarta. During the filming, the US media gave extensive coverage to the film's co-stars' scandalous love affair, as well as covering the in-fighting between director Huston and the stars. The publicity helped put Puerto Vallarta on the map for US tourists.
In 1968, the government elevated the municipality to the status of  "city." This status change reflected the interest of the federal and state governments in developing the city as an international resort destination. During this time, the government also
invested in the development of transportation and municipal infrastructure for the city, making Puerto Vallarta easily accessible by air and ground for the first time, and bringing about its first tourist boom in the late 60s and early 70s. The infrastructure of Puerto Vallarta has continued to improve in the interim, and now includes a maritime terminal, culture and art venues and high-tech utilities such as cable TV and high-speed internet, as well as city-supported utilities, a good road/highway system and an international airport.
Since the communal status of the land originally appropriated from the "Union en Cuale" Mining Company could not be resolved, it had stifled development in the town for the first seventy years of the 20th century. Finally, in 1973, the government established the Vallarta Land Trust to sell the land within the current city limits, and use the proceeds to develop the city's infrastructure. The land and development freeze was finally broken.
Puerto Vallarta lies on a narrow coastal plain at the foot of the Sierra Madres. This beach resort has become home to several hundreds of North Americans who have chosen it as their retirement home. Puerto Vallarta has near-perfect weather year-round with an average daily temperature of 73 degrees F. from November to May with virtually no rain, and an average summer temperatures of 87 degrees F. with cooling rain showers almost every evening.
Vallarta boasts an international airport, Gustavo Díaz Ordaz International Airport (PVR). PVR offers daily flights via the major US and Canadian airlines into the major hubs of the US and Canada. It is about a 3-hour flight from Los Angeles and around 5 hours, or a little more, from most major US and Canadian cities. During "high" season (July-August and November-May), the airlines expand daily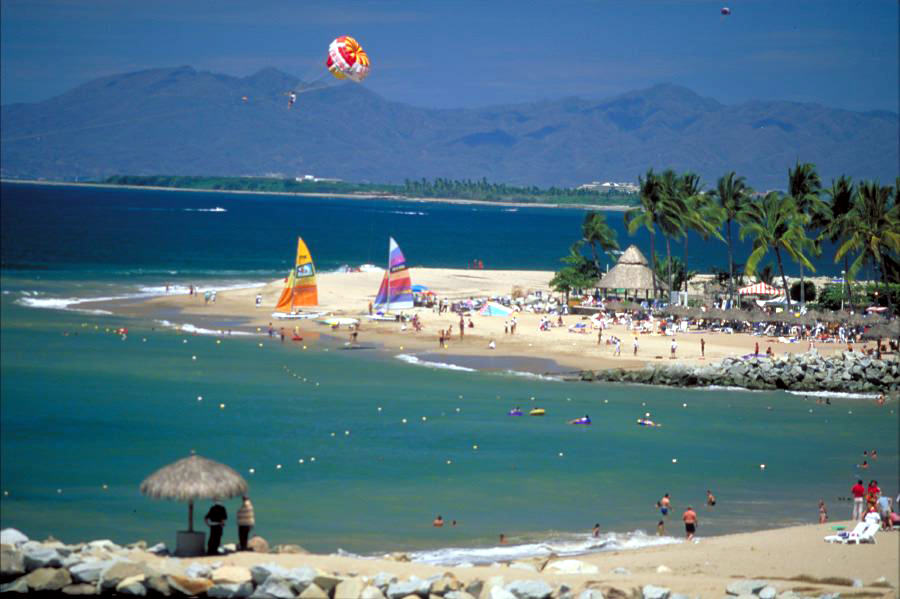 schedules to include more US and Canadian cities, and additional cities within Mexico.
Hospital Cornerstone: a new state-of-the-art, bi-lingual "Level IV" Trauma Center; San Javier Marina Hospital: large and fully equipped with the latest technology; Hospital CMQ: smaller with 14 private rooms and a trauma center; and Medasist Hospital: with an emergency room, Intensive Care Unit, laboratory, private suites, new surgery suites, CAT scan and radiology department, all provide for Puerto Vallarta's hospital needs. There is also a full-service holistic medicine center, the Organic Holistic Medicine which offers acupuncture, magnetic fields, biological dentistry, chelation Therapies, Q2, colon cleansing, etc. Numerous clinics, Servicio Medico de la Bahia, Clínica Hospital del ISSSTE, Clínica Unidad de Medicina Familiar, and Clínica No. 42, among others, and a strong network of doctors and dentists who provide the supporting framework round out the excellent PV medical system.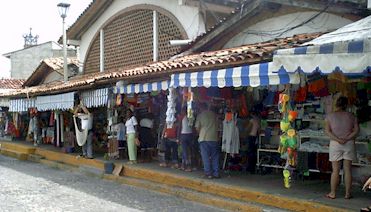 Real estate, despite PV's growing popularity as a retirement mecca, has remained affordable. Houses can be purchased for as little as $80,000 all the way up to a very luxurious $600,000 and more. But, the average home price is in the $200,000 range. For those who want to "try before they buy," the average rental for a nice two bedroom is in the $1200-$1500 per month area. But, for the careful (or lucky) shopper, there are "good buys" to be had at $500-600 per month and, occasionally, less. Utilities are typically Mexican – around $10-15 for gas and water each month while cable, phone and electricity depend on your usage/plan, but normally run 50% or less of what you've been paying north of the border.
There are four malls in Puerto Vallarta – Paradise Plaza, Plaza Caracol, Plaza Marina, and the smaller Plaza Neptuno with its fine home furnishing and clothing boutiques. Anchoring the malls are Liverpool, LANS, Soriana and Mega department stores. Get your groceries and house ware items at Gigante Supermercado – a Mexican take on Walmart, a real giant Walmart, Ley Supermarket, Costco or Sams.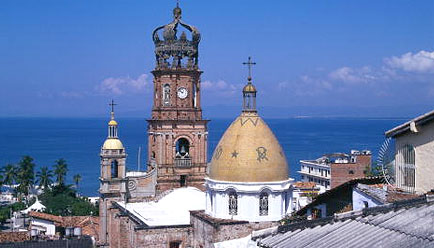 The all-time favorites for bargains, novelty, crafts or that item you just can't live without are the "Río Cuale Flea Market" and "Unique Consignment." The Flea Market is an large number of open-faced stalls under one roof. Even if you don't buy anything, you need to go by for the fun of seeing it. Unique Consignment is, as the title suggests, a consignment store where you can find great bargains in antiques, art, decorative items for your home, unique furniture designs and much more.
Puerto Vallarta also has a plethora of great restaurants and local eating establishments where you can eat out for a "song," or treat yourself to a full-course epicurean meal.
Why not visit Puerto Vallarta and its beautiful surroundings? You may find, like many others, that you "can never go home again."