Average Lifestyle Rating: C+ (range D+ to B+)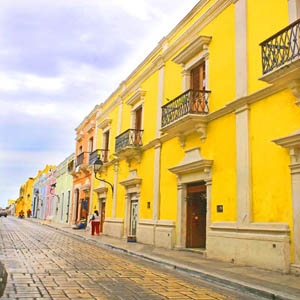 Built in 1517 AD, and located on the southeastern side of the Yucatán Peninsula, Campeche is the capital city of the state of Campeche and an excellent retirement destination for several reasons. The most important are the low cost of living, affordable real estate, high degree of safety and a colorful, colonial heritage.  Home to a large number of Mexico's indigenous people, Campeche is, for the most part still "off the tourist radar," therefore more "Mexican" than the many other areas that have made the economic trade-offs necessary to attract the tourist industry.  It's a UNESCO World Heritage City with a beautiful, well-preserved Spanish colonial center.  And, it lies right on the Gulf of Mexico, where sea breezes cool Campeche's warm weather.
One of the biggest reasons for choosing Mexico for retirement is the low cost of living.  In Campeche, this is true with charming colonial homes for sale beginning as low as $60,000.   Short and long-term rentals can be found in the $500-$1000 per month range.
Since the tourist industry for Campeche is still seminal, so is the real estate market and you won't find a large number of on-line resources for rentals and real estate, like you do for other parts of Mexico.  However, there are some vacation rental resources available on the internet, and a limited number of real estate agencies on-line who deal in Campeche properties.
Perhaps, a "scouting" vacation is in order, since most of the long-term rentals are privately-owned homes that are leased directly by the owners.  And don't forget, if you're looking to rent long-term in Campeche, that most long-term rentals are unfurnished, because the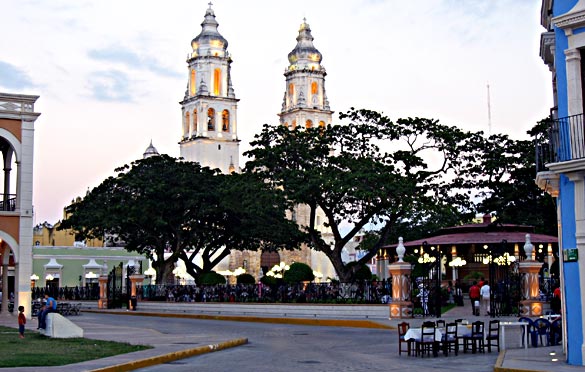 market has traditionally been ordinary Mexicans, not the expats or snowbirds who typically relocate without furniture.
Since Campeche remains relatively untouched by the tourist industry, expats in Campeche can still enjoy inexpensive seafood and Yucatecan-style dinners out.  And, as in all of Mexico, there are low-cost fresh groceries at the local mercado. The Campeche market, Pedro Sainz de Baranda, is a popular place to shop for original arts and crafts, traditional costumes, and local foodstuffs.  In Centro, there is an arts and crafts market, Tukulná Casa del Pensamiento – the Tukulná House of Thought, which offers another venue in which to purchase arts and crafts from local artisans. Looking for a big box store – Campeche malls provide the answer. You'll find a wide range of products in department stores and outlets at La Plaza del Mar, Plaza Universidad, and Plaza Girasoles.  For your more mundane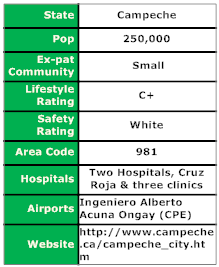 shopping lists, Campeche has the requisite one-stop chains like Wal-Mart.
Campeche has two full-service hospitals, Hospital Dr. Manuel Campos and Sanitorio Clinica Campeche, a Red Cross facility (Cruz Roja) and several clinics, Grupo San Miguel, Centro Medico Carmen and Central Quirúrgica Del Carmen.  But, for specialty medical services or surgeries, you may have to go to Merida.
Getting to Campeche is a little more complicated than, say flying into Cozumel, or Cabos San Lucas, since the Campeche airport, Ingeniero Alberto Acuna Ongay (CPE), has flights only into and out of Mexico City.  However, once in Mexico City, you can connect with most of the major airlines and get to anywhere in the world.
Campeche offers a great range of activities. With many venues, Campeche's cultural centers host events throughout the year – the two biggest being the Festival del Centro Histórico in November and December, and the Festival de Jazz in the Spring.  But, there are also annual festivals for Carnaval, Semana Santa (Easter), All Saints' Day and All Souls' Day (November 1-2), as well as an enthusiastic Christmas celebration. Campeche is home to seven museums including that of the coastal fortifications and citadels left from the days when the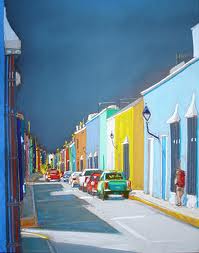 real Pirates of the Caribbean plied the ocean between the North and South Americas. The Mayan ruins located in and around Campeche, such as the closest "Edzna," are not as well-known, or often-visited, as others in the Yucatán Peninsula, but are considered very important sites by archaeologists.
Are you looking for a place that's not quite 21st Century?  The beautiful colonial city of Campeche is a quiet, unspoiled, out of the way gem on the coast of the Yucatan that hasn't yet been "discovered."  Quick! Get there before the crowd does!!