If you are coming to Mexico as a tourist or as a new immigrant, the first thing you need to do is go to the INM and begin your temporal application process.  To obtain, renew or change your immigration status, you must start here by filling out an online application, being accepted and receiving a NUE.
At the border, they will take your temporal application and exchange it for a "Visitante" Visa.
If you are bringing your own auto, RV, motorcycle or boat over the border, you should apply for your Temporary Import Permit as far as 60 days in advance, but requires at least a 7-10 day lead time before your trip.  Once filed, all documents can be mailed to you by FedEx or other service.
Regions That Do Not Require Permits
If you are bringing your car over the border temporarily, there are regions of Mexico that do not require a permit.  A permit is not required if you plan to stay within the border zone, within the Sonora permit free area or within the entire Baja peninsula.  The border zone encompasses 25 kilometers (16 miles) of the border and the entire Baja California peninsula.
If you are visiting Rocky Point, Guaymas, San Carlos, Hermosillo, Bahia de Kino, Caborca, Father Kino Missions, Magdalena and Santa Ana, you will not need a vehicle permit.
If you are only going to Sonora, there is an "Only Sonora" permit you can purchase.
Quintana Roo is another Free Zone.  However, to get to Quintana Roo from the U.S. or Canada, you will need a TIP and if you want to drive outside the state of Quintana Roo to visit other states, you will need the Temporary Import Permit.  However, Quintana Roo is a border state of Belize and Guatemala, and therefore a Free Zone once it is there.
Regions That Require A Permit
If you plan to drive south of the border zone or outside of the Sonora permit free area or outside Baja, you must obtain a "Temporary Import Permit" online at the border, or from certain Mexican consulates.  Banjercito – Mexico's Banco Nacional del Ejército Fuerza Aérea y Armada, is the government authority who issues vehicle permits.
Completing the process on-line is the most straight forward way to go.  
Print out everything and make 3 copies.
How Long Can My Permit Be?
Temporary vehicle importation permits (Temporary Import Permits or TIP's) for tourists and for expats crossing the border for the first time, are valid for up to six months.  Within this six months, you may enter and exit the country with your vehicle as many times as you want but the time frame must match your immigration document length of time.
Within this six months, if you are planning to stay in Mexico, you will need to go to your local INM office to get your Resident Temporal Visa.  At this time, your TIP permit will be tied to your immigration status.  Make sure that you notify Aduana if when you change your immigration status.
Apply For Your Immigration Pre-Authorization First
If you are a U.S. citizen, Canadian, or a permanent resident of the U.S. or Canada, before starting the application process for your permit, you must go to the National Migration Institute in order to apply for your immigration pre-authorization.
Your vehicle permit will be issued for the same period as that stated on your immigration pre-authorization.
Once you are at the border crossing of Mexico, you must approach an immigration officer in order to exchange your pre-authorization form for the proper immigration document.
You Must Purchase Mexican Insurance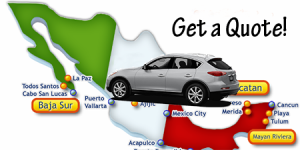 In order to bring your auto, RV, motorcycle, or boat into Mexico, you must purchase Mexico Car Insurance.  Your domestic auto insurance will not be honored in Mexico.  Remember to buy Mexican insurance before your trip on-line.   It is easier to buy Mexican insurance online than at the border.
You must keep your vehicle legal while in Mexico in order for your Mexican insurance to pay a claim.  If your immigration status changes, you must notify Aduana.
***If you plan to nationalize your vehicle fairly quickly in Mexico (purchase Mexican plates for your car), purchase a short term insurance policy as this insurance is intended for foreign plated cars only.   You may keep your foreign plates up to 4 years, or until you obtain Residente Permanente status.  For more information on nationalizing your vehicle, read more here****
Apply For Your Permit at Banjercito
Documents You Will Need To Apply Online
Passport
Your

INM Immigration

Preauthorization Number
Date you will enter Mexico
Email address to send a confirmation email with a reference number
Number of passengers in your vehicle
Address the permit will be mailed to
Your vehicle's VIN number
Credit or debit card that allows foreign transactions in the name of the person applying for the permit – Very important at border crossing
Once you have made your payment, Banjercito will send the permit to your address within 7 business days.  Upon receiving your permit, send a copy of the documents you provided, along with copies of all of the documents you used to apply online, in one of the following ways:
E-mail the scanned documents to:  itvnet@banjercito.com.mx
Through courier service to the following address:  Av. Industria Militar 1055, Col. Lomas de Sotelo, Del. Miguel Hidalgo, México, DF, CP.
Deliver them in person to any Banjercito office (List of offices are at the bottom of this page)
Temporary Permit Rules
You may ONLY request a permit for a vehicle that is registered to your name or that of your spouse, your children, or your parents.
The holder of the credit card by which will pay the temporary import procedure, must belong to the same applicant.
The applicant should be of legal age (18 years old), pursuant to Mexican law.
If you are currently making payments on your car to a bank, many banks and finance companies require you to get a letter of permission to bring your car into Mexico.  In order to issue the letter of permission, many companies will require proof of 

Mexican Auto Insurance

 first.  Contact your bank or finance company and let them know your plans.  They will provide you their specific instructions. 

If you have a co-signer on the lien, you must also have a letter of permission from them to take the vehicle over the border.
Cost for Auto's
2007 and newer models, USD $400.00 deposit required
2001 – 2006 models, USD $300.00 deposit required
models previous to 2000, USD $200.00 deposit required
Cost for RV Permits
Fees in USD, including IVA are:
(about U.S. $50.58 as of 10/19/11)
A guarantee deposit is also required
Cost for Boat Permits
Fees in USD, including IVA are:
(about U.S. $50.58 as of 10/19/11)
A guarantee deposit is also required
What is the guarantee deposit?
The Banjercito guarantee deposit will be returned once the vehicle and permit are returned.  If you do not return your vehicle and the permit by the time your permit expires, Banjercito will keep the deposit.   Deposit amounts are:
2007 and newer models, USD $400.00 deposit required
2001 – 2006 models, USD $300.00 deposit required
models previous to 2000, USD $200.00 deposit required
Significant points to be aware of when importing a vehicle temporarily are:
A temporary import is only possible for a single vehicle at a time, except in the case of an RV towing a vehicle – then both can be registered at the same time, by the same person.
The maximum load capacity for a temporary vehicle import is 3.5 tons, not including the weight of the vehicle.
You may tow with your vehicle, one – three off-road motorcycles, dune buggies, four-wheel motorcycles, ATVs, up to the number of people traveling inside the vehicle.  You must be able to provide proof of ownership for the vehicles being transported and they must be returned along with the towing or transporting vehicle.
You cannot sell a "temporarily imported vehicle" in Mexico, or use it for commercial activities.
Your TIP is only valid for "Visitante" and "Resident Temporal" Visas.   Resident Permanente Visa holders may not have a foreign plated car in Mexico.
Ready To Go?
Once in the country, we recommend keeping the following documents in your vehicle at all times while traveling through Mexico:
Original valid driver's license from your country of origin and a printed out copy
Original and copy of your passport
Original and copy of visa
Vehicle registration document, or title, in the driver's name.   If the vehicle is owned jointly, a copy of the joint holder's passport.
If the vehicle is still owned by a creditor, your creditor's permission letter
Vehicle permit you received from Banjercito and the sticker to adhered to the inside of your windshield
A copy of your 

Mexican insurance policy
The Banjercito Sticker
Along with the permit, Banjercito will also send you a sticker.  It should be affixed to the inside of the vehicle's windshield, next to the rear view mirror.  This needs to be done before entering Mexico.
With your sticker, you will also receive a request for three copies – of the personal information page of your passport, of your vehicle title and of a signed "Promise to Return" letter.  You can send the document copies either by snail mail, or electronically to the provided e-mail address.  You must do this before the permit expires, or you will never be allowed to get another advanced permit.
When approaching the border crossing, watch for the "Módulo de Control Vehícular" or Mexican Customs (Aduana México) signs that say "Importación Temporal de Vehículos".  Have all of your documents in a plastic sleeve, or packet.
Leaving Mexico
To terminate your permit when you leave México:
Visit the branch unit at the border when leaving Mexico.  Submit your vehicle and Temporary Import Permit, and the Banjercito will issue a return certificate.  Keep this receipt, and bring it if you drive to Mexico again. You may need it to prove that you processed your car out.
At this time, the Banjercito will return your cash bond, or issue a credit to the credit/debit card that you used for the bond (at the daily exchange rate at that time).

It usually takes three days for the refund to be posted on your card account.
If they have deleted their cash reserves for the day, you will be asked to return the next day to collect it (a good reason for not using cash).
It is very important that you complete the "vehicle return" process.  If you do not, you will not be permitted to bring the vehicle into the country again.
If the vehicle is returned after the expiration date, the deposit is automatically forfeited to the Office of the Treasury on the day following the expiration date. 
For more answers to questions about vehicle permits, please call Banjercito at 011-52-555-328-2329
List of Banjercito Offices and Hours of Operations
Baja California Norte
Tijuana
8am-12am – 7 days a week
Otay Mesa
8am-12am – 7 days a week
Tecate
8am-8pm Monday-Friday
10am-2pm Saturday
Closed on Sunday
Mexicali
24 hrs – 7 days a week
Mexicali – Annex
8am-4pm Monday-Friday
10am-2pm Saturday
Closed on Sunday
Baja California Sur
La Paz (Pichilingue)
9am-2pm – 7 days a week
Chihuahua
Cd. Juarez (Km. 30) 
24 hrs – 7 days a week
Palomas
8am-12am – 7 days a week
Pte. Int. Ojinaga
24 hrs – 7 days a week
Piedras Negras (Km. 54.3)
24 hrs – 7 days a week
Acuña
24 hrs – 7 days a week
San Jeronimo
24 hrs – 7 days a week
Sonora
San Luis Rio Colorado
8am-12am – 7 days a week
San Emeterio (Sonoyta)
8am-12am – 7 days a week
Nogales (Km 21)
24 hrs – 7 days a week
Naco – Anexo
8am-12am – 7 days a week
Agua Prieta
24 hrs – 7 days a week
Cananea
8am-6pm Monday-Friday
8am-1pm Saturday & Sunday
Tamaulipas
Nuevo Laredo (Patio Fiscal)
24 hrs – 7 days a week
Nuevo Laredo (Puente Internacional I & II)
24 hrs – 7 days a week
Reynosa
24 hrs – 7 days a week
Nuevo Amanecer
8am-12am – 7 days a week
Ciudad Camargo
8am-12am – 7 days a week
San Jeronimo
24 hrs – 7 days a week
Matamoros Pta. Dos 
9am-6pm Monday-Friday
9am-4pm Saturday
Closed Sunday
Puente Nuevo
24 hrs – 7 days a week
Puente Ignacio Zaragoza
9am-9pm – 7 days a week
Puente TLC
9am-6pm Monday-Friday
9am-4pm Saturday
Closed Sunday