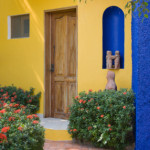 Mexico on My Mind offers Mexico homeowners insurance brokered by U.S. based specialists who deliver English / Spanish written policies you are accustomed to.
Property insurance policies in Mexico are indeed different from policies sold in the U.S. and Canada. The policy wording is different and the types of coverage are different.  For instance, things you might think are included as standard issue in the U.S. or Canada might not be standard issue in Mexico if you purchase a policy directly from a Mexican home owners insurance company.
IIG, the underwriter of Mexico on My Mind homeowners insurance, has worked long and hard with Ace Seguros to create a homeowners insurance product that is legally sound under Mexican law while staying within the parameters of a policy North Americans are use to.
Sample of an Ace Seguros Mexico Homeowners Policy 
If you have already purchased a homeowners policy through Mexico on my Mind and Ace Seguros, and you need to file a claim, we have included the claim filing instructions for you to follow below:
Underwritten by IIG, Ace Seguros has put forth the following instructions for filing your homeowners claim:
Call This Number Within Mexico for Claims Provided by Ace Seguros:
(Toll Free) – 01-800-362-7288
Direct Number within Mexico  818-374-8053
In the event of a claim, you or another insured will need to perform the following duties (If Applicable).  Ace Seguros has no duty to provide coverage under this policy if your failure to comply with the following is detrimental to them.  You will need to help them by seeing that these duties are performed:
1)  Call the 01-800-362-7288 number from within Mexico.  You will be asked to provide:
Policy Number
Name of the Insured(s)
Nature of the Loss
Place and address where the loss occurred
2)  Give written notice to Ace Seguros as soon as is practical, which sets forth:
The identity of the policy and the named insured shown on the "Declarations";
Reasonable available information on the time, place and circumstances of the "occurrence" or claim and
Names and addresses of any claimants and witnesses
3)  Cooperate with the investigation, settlement or defense of any claim or suit
4)  Promptly forward to Ace Seguros every notice, demand, summons or other process relating to the "occurrence" or claim
5)  At Ace Seguros request, help them
Make a settlement
Enforce any right or contribution or indemnity against any person or organization who may be liable to an "insured"
With the conduct of suits and attend hearings and trials
Secure and give evidence and obtain the attendance of witnesses
6)  With respect to "Damage of Property of Others"  under Section II, you will need to submit to Ace Seguros within 60 days after the loss, a sworn statement of loss and show the damaged property , if in an "insureds" control
7)  No insured shall, except at "insured(s)" own cost, voluntarily make payment, assume obligation or incur expense other than that for first aid to others at the time of the "bodily injury"
For claims regarding medical payments to others, you or another insured will need to perform the following:
1)  The injured person or someone acting for the injured person will call the 01-800-362-7288 number from within Mexico and
Give Ace Seguros written proof of claim, under oath if required, as soon as is practical
Authorize Ace Seguros to obtain copies of medical reports and records
2)  The injured person will submit to a physical exam by a doctor of Ace Seguros choice when and as often as Ace Seguros reasonable requires
To Get Status of Your Claim
Contact:  Fernando Tapia
Email:  fernando.tapia@acegroup.com
Toll Free from U.S. :  1-866-573-5677
Direct Number to Mexico:  011-52-555-258-5872
Fax Number:  011-52-555-258-5879