Overgrown with tropical forest, the Coba ruins (pronounced coh-ba), the once great city that for a time, dominated ancient Mayan society in northern Yucatan is
almost forgotten. Aside from a gentle stream of explorers flowing through each year the ancient city is one of the few visited ruins that has been left relatively untouched. Some, expecting a restored metropolis on par with neighboring Chichen Itza are disappointed by its eroded temples with fading facades. Others, however, are intrigued by its mysterious carvings of Guatemalan female-rulers, and with Nohoch Mul, its colossal temple that towers above the canopy. From the crest of Nohoch Mul, the expansive Mexican jungle gently echoes exotic birds and howler monkey. It's easy to imagine ancient priests, crowned with feathered headdresses who once sat there studying the sunset and stars, like deities in their divine abode.
Approximately 45 kilometers west of Tulum, and a stone's throw from Valladolid, Coba is surprisingly accessible, though it appears remote. Its restoration has yet to gather momentum; and so far, the site has simply been cleared to create access. This is fortunate as the exuberant vegetation still surrounding barely excavated structures offers ample opportunity to spot wildlife.
Among the oldest and largest ancient Mayan lands, Coba emerged as a mighty city-state during the late Classic era, between 600 – 900 AD. Its political hegemony stretched some 50 square kilometers.
Trade is believed to have been Coba's main activity, owing to its strategic position en route from the inland to the coast, as well as its abundant water supply which facilitated urban expansion, and made the city an attractive stop-over for traveling merchants.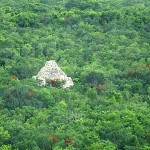 The first westerner to come exploring was Mayanist Teobert Maler in 1891. As his small entourage searched for ruins, hacking through the thicket, they stumbled across a raised limestone passageway, which he identified as "five to six meters wide, and lined on both sides with great dressed stones." This sacbé (pronounced saq-bay), or "white road" connected to an expansive pre-Colombian road-system, which interwove Coba, connecting it with other centers. Archeologists theorize that its purpose was probably ceremonial, used by the processions of nobles and priests in their commute to other cities.
Coba's architecture is distinct from its closest neighbors, Chichen Itza and Uxmal, both of which have elaborate facades, rich with geometric patterns. Coba's temples – tall and bulky – embody the "Peten" style more associated with the distant cities of the south. The theory is that Coba formed an alliance through marriage with Tikal, a powerful conquest state in the Peten Basin area of northern Guatemala, to facilitate trade. The new wives most probably bought fresh cultural ideas, which are manifested in the architectural design.
Nohoch Mul (pronounced no-hooch-muul) is Coba's main attraction, situated in "Grupo Nohoch Mul," on the far edge of the site. Measuring approximately 42 meters in height, it is the tallest pyramid in northern Yucatán, and luckily, visitors are still permitted to climb its 120 steps. On top, there is a small temple sheltering a slightly eroded relief of a "diving god" thought to be associated with Venus. The real reward, however, is its panoramic view of the jungle.
Close to the entrance, La Iglesia, found in "Grupo Cobá," is another attractive temple. It is the second tallest on-site. Also, within this group are two ball courts, both with well-preserved features.
Head past the ball courts towards "Grupo Macanxoc," where you'll find stelae reliefs of females standing on the heads of subjects in an expression of domination. Sadly, these are badly eroded. Though, archeologists believe that these images may represent the female rulers who arrived from Tikal.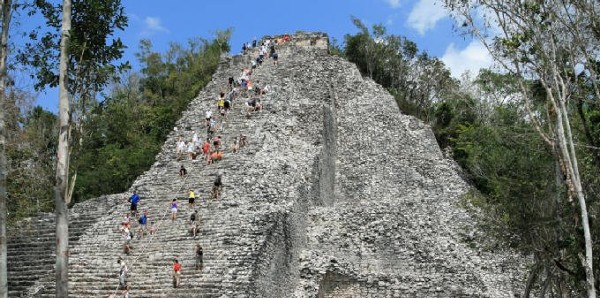 Coba is scattered across the forest, so expect sizable distances between ruins. Wear comfortable walking shoes, especially if you intend to
climb Nohoch Mul, and carry repellent. The advantage of trekking between attractions is that you're surrounded by wonderful exotic trees and plants peppered with wildlife, so have your camera handy. Or, you can rent a bicycle or rickshaw-style taxi near the entrance, or the Ball court.
Entrance costs $4 US and the site is open from 8 am to 5 pm, Monday to Sunday. Arrive early, to avoid the heat and humidity, and expect to spend from two to three hours exploring.
How to get there: You can get to Coba easily by jumping on an ADO bus from either Tulum or Valladolid. Alternatively, there are several tour operators in the region that offer excursions. These are more expensive, but can be a better value if you want to make the most of the day by also visiting a cenote (a sinkhole) and Valladolid.
If you rent a car from Tulum, drive west towards Valladolid; and from the first roundabout, take the first left, which will head you to Coba.
Great little video of Coba and Surrounding Area: