This post is dedicated to the many celebrations and festivals around Mexico that happen on an anual bases. We will be continuely updating this post with the many colorful occations and traditions throughout the year.
" GUELAGUETZA, A GLANCE AT TRADITIONS"
The "Guelaguetza", is a celebration that takes place in the city of Oaxaca during the two Mondays following the second weekend in July, this year the festival begins on July the 16th, 2016. It gets its name from the Zapoteca word "guendalizaa", which means "exchange of gifts and services", and symbolizes the act of participation, or sharing, without manifesting any obligation besides reciprocity. The intention behind this celebration is to reinforce the relations between the members of the communities and to create a cooperation network between the different regions and municipalities.
This celebration has its origins in the pre-hispanic festivities related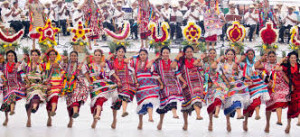 to the Mexica Corn Godess "Centéotl", and was based on the offering of goods from all different communities around the region in order to please this goddess. After the Spanish conquest and evangelism, catholic intentions were integrated into this celebration; however the timing of the celebration remained related to the harvesting of the corn. This colorful festival has been celebrated year after year, ever since that time, and still takes place in the same hill where it first started; now in an auditorium specially designed for that purpose.
The Guelaguetza has become a celebration of culture, where each of the 8 regions of the state (Los Valles Centrales, La Sierra de Juárez, La cañada, Tuxtepec, La Mixteca, La Costa, La Sierra Sur, and Istmo de Tehuantepec) has an opportunity to display through dance, music, gastronomy, garments and crafts, the richness of their customs and traditions; the festival highlights the differences of each of the cultures and communities, as well as their complimentary relationships.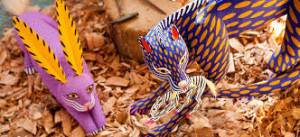 As a festival, The Guelaguetza is divided in 4 stages, each of them shows a different time in its history: 1) The Prehispanic period: during this part of the event, you can see, through visual representation and performances, the Azteca domination, the royal festivity, the choice of the virgin and her sacrifice in the honor of Centéotl; 2) The colonial period: shown Through the dances which were performed by the Mexicas for pleasing their gods, all the way to the time of the Spanish conquest; followed by a procession in honor of the Virgen del Carmen; 3) The Independent Mexico period: shown through a wide variety of different products and offerings from each of the regions as well as "Catrinas" in their colorful dresses; and finally, 4) The contemporary period: which shows the different garments of each of the regions and a poems dedicated to Oaxaca, as well as a fireworks show.
Special thanks to  www.visitmexico.com/es for the use of their photography in our post on "La Guelaguetza, A Glance at Traditions".