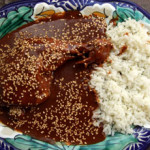 Chicken with mole sauce is a traditional Mexican dish combining chicken breasts with a rich chocolate-chile sauce spiced with cinnamon, cloves and coriander. Chicken Mole, made with chocolate, is not only rich with flavor but it's also full of antioxidants and protein.  To make a healthier version of the recipe above, remove the skin from the chicken breasts to decrease fat and calories.
Calories
A 100-g portion of roasted chicken breast served with 2 tbsp. of traditional mole sauce contains approximately 395 calories.  If you are on a 2000 calorie a day diet which is around the average calorie range, an average meal is around 500 calories.  Keeping this as your meal calorie goal, there is also room for healthy beverages and snacks.Health Benefits
First, skinned chicken breasts are an excellent source of protein, especially if you buy organic.  Chicken is an excellent source of the cancer-protective B vitamin, niacin, which has been shown to slow down the progression of Alzheimer's.  A four ounce serving of chicken provides 78% of the daily value for niacin.Chicken is also a very good source of the trace mineral, selenium which is important to thyroid hormone metabolism, antioxidant defense systems, and immune function.By now, you have undoubtedly read about all of the health benefits of chocolate!  The chocolate in mole sauce is rich in flavonoids which provides protection against cellular and organ damage due to free radical exposure.  If you need another reason to fit chocolate into your diet, studies have shown that chocolate helps with chronic fatigue syndrome too, and who can't use a little more energy during their day.Watch the Salt
Store bought mole sauces contain an enormous amount of sodium, so it's a lot healthier to make your own mole.  Sodium can lead to high blood pressure and water retention, a condition known as edema.   If you have high blood pressure, you need to be very careful to watch the amount of salt you consume.Mole is most popular in the central and southern regions of Mexico such as Puebla and Oaxaca but 60% of the mole eaten in the country comes from San Pedro Atocpan near Mexico City.  Enjoy some Chicken Mole and enjoy the flavors of Mexico!