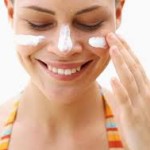 If your planning a trip to the Yucatan Peninsula, you are likely wanting to enjoy this area's amazing crystal blue oceans and fresh water cenotes.  Mexico works very hard to protect their cenotes as these naturally occurring freshwater wells are the area's only major source of fresh water.
When tourists swim in them with lotions and sunscreens, the chemicals in these products inevitably enter the local population's drinking water supply.  Even sunscreens that advertise themselves as "sweat proof" inevitably sweat from your skin and into whatever water you are swimming in.
Although the FDA has deemed lotions and sunscreens containing chemicals safe enough to use on your skin, exposure to sunscreen has been shown to advance coral bleaching and over time they can poison fish, sea plants, and other delicate marine life.
Consider this:  Most local pools and jacuzzi's require you to shower before getting in to take any oils off your skin and hair.  It only makes sense you do this when entering into a live cenote or ocean, right?
Biodegradable sunscreens are admittedly not as easy to find on the shelves as sunscreens with toxic chemicals, but they are more prevalent than they use to be.  Caribbean Sol is available online, but otherwise, most health food stores sell them now.
The label of a biodegradable sunscreen should state that it is 100% biodegradable.  Only 100% will do. Ingredients that are not biodegradable are: octocrylene, benzophenone, butyl methoxydibenzoylmethane, hexyldecanol, dimethyl capramide, cetyl dimethicone, methylparaben, polythylene, propylparaben, and butylcarbamate.
Do yourself, the ocean, the cenote's and the locals who live in the Yucatan a favor and purchase biodegradable sunscreens and lotions before heading down.