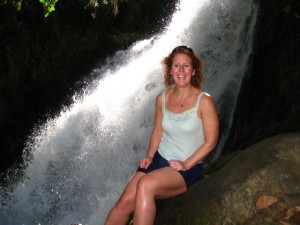 Layna Segall de Velez has had a "love affair" with Mexico since her first trip when she was 18, so much so she married the "love of her life" (who is, not incoincidentally, Mexican) four years ago on the cliffs overlooking the ocean in Mismaloya, Jalisco.
Her work is featured on a National blogging website called Not A Tourist Singapore, and she is currently writing travel articles for Canadian newspapers.
While Layna travels the world with her husband and currently resides in Singapore, she and R2 always dream of coming "home" to Mexico, sooner rather than later. Recently, she gave up the corporate life so she concentrate on her writing. Layna writes a successful, humorous blog about the trials and tribulations of living in Asia at Layna in Asia. 
See Mexico through Layna's eyes. Her wonderful, self-deprecating sense of humor lends comical irony to her writings and makes them all an enjoyable read!