Happy Holidays From Mexico On My Mind!
Is there anything more valuable than how you feel?
Right now, Catherine and I are feeling very grateful about our decision to move to Mexico over seven years ago, more grateful than ever to be sure.
Sometimes the path we choose in life unfolds with wisdom that reminds us that we are all part of something bigger. For us, we took a chance, we took risks, followed a dream, and it has delivered rewards beyond anything we could have ever imagined.
Most of all, it has given us our confidence that anything is possible! We actually manifested this dream and live it each day!
---
Life Can Change In An Instant and We Are Grateful
You see, we had no idea seven years ago, when we decided to go after our dream of moving to Tulum, Mexico that my dear Catherine would be diagnosed with cancer this past September.
Yes, the love of my life has cancer and a "life sentence." You can be sure we will fill up whatever time we have with joy and presence in love. Just a gentle reminder for all; our lives on this beautiful planet are but a blink on the universal scale, and you never know when your time to move on will come.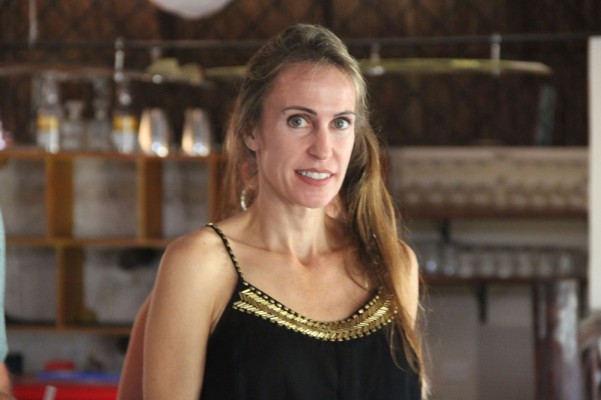 We are grateful we chose to move to Mexico sooner, rather than later. We are grateful we developed the gumption to dive into unknown waters and embrace change. We bask in and cherish the friendships and experiences we have made in our little Mexican paradise known as Tulum.
We are grateful for the time we have shared in this sublimely beautiful nature.
We are grateful for the memories & adventures we've shared.
We are grateful for the adventures to come.
We are grateful and recognize the miracles that we experience.
We are grateful we have chosen a place of healing and peace.
We are grateful for a life well lived with our priorities in love.
We are truly humble and fortunate souls.
---
Meanwhile, Life Goes On…
We all get consumed by our work at hand. We buy into external and internal stress along with a growing sense of urgency that goes hand in hand with the perpetual pursuit of happiness.
The plans we have made to "someday" make a change seem to get put off and remain someday. In the meantime, while we work our lives away, the dreams become obscured from view…because we are too busy! Working for someday is no way to live. Accomplishment trumps productivity which is the difference between completion and just being busy.
NOW is the gift we are given, which is why it is called the present.
Many folks in modern times now work themselves sick these days, the stress of equating your self worth with your net worth is a recipe for dismay. Whats the point of working so hard and having so much stress in your life that you get sick when you were supposedly going to have the time to enjoy it?
These are realizations that led to an epiphany for us.
It is a not a healthy human experience to place so much value in material. It is a medical fact that 95% of ALL dis-ease is caused by stress! If you don't believe it, ask your doctor and then think about that for a moment. Humans are meant to manifest and live their dreams, the peace and balance in this purposeful passion is where we always belong in each and every moment, true & eternal happiness.
---
Mexico On My Mind Today
As you may have noticed, we have been a bit quiet lately. Well, at the moment, Catherine and I are in Colorado undergoing chemo-radiation treatments. Our partner, Matt Ludwig, is in Tulum keeping the doors open for MOMM and has been charged with all around moral and operations. His favorite saying is…
"Keep up the good fight, Catherine – Strength, Power and Wisdom comes to us all as belief and faith develop upon the concrete foundation of a growing practice. You're the Cure."
Tulum is a magic potion for any ailment. A place of healing, peace and alignment that has blessed all three of us. In fact, Matt himself, has been able to make a major impact on  an autoimmune disorder known as Psoriasis, during the past two years, of which he attributes his progress mostly to the natural and peaceful environment of this wonderful place.
Mexico On My Mind, our labor of love, is on hiatus for just a short while while we focus on healing. We have very good health care and the support of loving friends and family. We are tentatively planning to return to Tulum at the end of January where Catherine will continue to heal and return to her healthy & vibrant self.
In the meantime, we have needed to adjust some modest goals for Mexico On My Mind, including an updated guide for 2015, more one-of-a-kind services and new resources we will be rolling out in the coming months. Please be patient with us as we keep THIS dream alive along the way for us ALL! We are looking forward to the upcoming year and blazing more trails for our Dreamers and Expats!
We are VERY grateful to have such a wonderful audience of people who share our love of Mexico and feel inspired to make their own dream of Mexico happen! This reciprocal influence creates a tidal wave of positive momentum that catapults us all into living our dreams TODAY, not just waiting for that someday.
Thank you for sharing that dream with us!
The lovely people who have been supporting us along this journey bring a tear of joy to my eye everyday. If you are interested in supporting Catherine's medical expenses please visit our funding page here: http://www.gofundme.com/life4catherine
Happy Holidays from all of us at Mexico On My Mind! Sending love and grace from our family to yours and wishing you health, vitality and abundance.
Be good to yourself. Be true to yourself.
Life is short and we are meant to live our dreams.
Please keep us in mind for your Mexico insurance needs during your holiday season travels and beyond. If you or someone you know is headed to Mexico and needs insurance, here's the link: https://www.mexicoonmymind.com/mexico-insurance/
Yours Truly,
Ron Burdine
Co-Founder and CIO (Chief Inspiration Officer)
MexicoOnMyMind.com
ron@mexicoonmymind.com
Together we can Make Mexico Happen!