It has been three weeks since the 2016 US presidential election. The dust is still settling on an unsettled and divided country. The fact is, Donald Trump will be the 45th president of the United States of America.  Americans need to get used to it.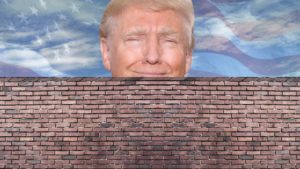 You may be considering some hard choices if your candidate didn't win the election. One thing that won't solve any issues is complaining. To be happy you need to adjust your perspective and take action!
First, you can stay in the soon to be "great again" USA and conclude that the office of president of the United States is just an "office" and our new president will not be able to significantly change your way of life.
Your other option is to leave the country for a while, possibly permanently…maybe Mexico is calling your name?
For those of you considering the option of heading south of the border, here's a few things Mexico (the country on the other side of the wall) has to offer!
The Climate is Beautiful. Most places in Mexico offer a very mild to warmer climate. If you are tired of scraping windshields and shoveling snow, Mexico is the place for you!
The Cost of Living. On average (depending on where you live in Mexico) the cost of living is 50% less than it is in the USA. Produce alone is nearly 1/3 the cost. Exceptions are autos and electronics. Your dollar is going a very long way right now due to the big drop in the peso.
Slower Pace of Life. If you are done with stress, worry and being on a schedule constantly, Mexico could be for you! The relaxed lifestyle will have you adjusting to the manana culture in no time. Relax and remember, you relocate here to get out of the "rat race".
It's a Good Investment. Choose a spot that is popular with expats and tourists or in the path of progress and you could do very well on Real Estate investments in Mexico. Where I live in beautiful Tulum is a perfect example of expats cashing in on paradise while enjoying a new lifestyle. Property values are on the rise, taxes are cheap and you can often do vacation rentals to supplement your income.
Cheaper Medical Care. With an international health insurance plan you can typically expect to pay less than ½ what the typical U.S. individual premiums are (non-employer sponsored). There are many modern hospitals throughout Mexico, particularly in areas popular with expats, the care is very good. If you are already on Medicare, there are affordable travel policies that work abroad as an international supplement.
Residency is Easy to Get. Mexico loves Americans and Canadians to move to Mexico! Why not, we spend our money there and support their local economy. The retirement income requirements for temporary and permanent residency are reasonable.
Removed from The Media. It's much easier to get away from the constant stream of media and advertising in Mexico. It's like a different planet! The issues of the USA are not the same for Mexico and easy to leave behind.
So, take a deep breath, innnnnnnnn, then outtttttttttttt. You do have options and you can take action that will change your life.
All you have to do is choose, then challenge yourself, then cherish what you manifest!
Those outside of ourselves, do NOT determine how are lives are lived. True happiness comes only from within.
If you are handing that over to a politician, good luck. Keep in mind that whoever is president does not effect YOUR decision to be happy…wherever that may be!
Bienvenidos to your new happy place. Make Mexico Happen!
Click here to contact me and we can set your plan for relocating to Mexico, no matter where you are at on the decision-making process! I offer inspiration, advice and action plans. ~Ron Burdine