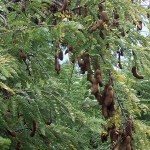 Tamarind is sold in grocery stores throughout Mexico in the produce section.  You can buy Tamarind raw, right out of the bin, or bagged.  It is also sold in small containers already melted down and gelled.
In Mexico, Tamarind is used in sauces on fish and other dishes, or sold in various snack forms.  Eaten naturally, it's flavor is sweet and sour and the texture is similar to a fruit roll up.  Chamoy, a candied Tamarind, is a popular snack and so are iced fruit bars and Tamarind beverages.  However, natives often pluck it off the tree and eat it raw, just like a natural fruit roll up!  Today, Mexico remains one of the largest growers and consumers of tamarind.
The tamarind tree flowers with bright red and orange blooms.  Along with the bright blooms, pods containing a delicious pulp hang from the branches.  The pods  are 3 to 6 inches in length, with a hard, brown shell.   The pods are mature when the color reaches a brown or reddish-brown color.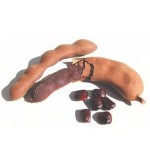 To get to the fruit, you simply crackle off the outer shell.  The pulp covers flat, brown, shiny seeds.
Health Benefits
Along with a rich, sweet and sour flavor, there are a host of health benefits from Tamarind due to it's high fiber and rich vitamin and mineral content.
A few health benefits include relief of constipation, indigestion, gastrointestinal disorders,bacterial skin infections, cholesterol disorders, colds, colic, pink eye, diabetes, dry eyes, fever, gallbladder disorders, gingivitis, hemorrhoids and more.
Its sticky pulp provides over 13% of the recommended daily intake of fiber.  The fiber binds to toxins in food to protect the colon from cancer causing chemicals and also binds to bile salts to decrease their re-absorption in the colon.  This helps to excrete LDL cholesterol levels from the body and lower cholesterol.
Tamarind is a good source of minerals like copper, potassium, calcium, iron, selenium, zinc and magnesium.  It is also rich in many vital vitamins including thiamin, vitamin A, folic acid, riboflavin, niacin and vitamin C.
Tamarind is also a rich source of tartaric acid. Tartaric acid gives a sour taste to food and is a powerful antioxidant which helps the body protect itself from harmful free radicals.
To Prepare
Tamarind may be picked off the tree and eaten naturally, but to prepare as a sauce, check out this recipe from Chef Rick Bayless.  Tamarind paste can be bought at any Indian or Mexican specialty store or located in the produce or spice section of your local grocery store.
If you haven't ever tasted Tamarind, it is truly a gift from the Gods!  A sweet treat that is good for you too!