Places to Go!
Parks
Xcaret!!
What's to do at Xcaret?  Underground Rivers, Beach, Lagoon & pools, Tropical Jungle Trail, Main Plaza, Stained-glass Plaza,  House of Whispers Rotating Scenic Tower, Butterfly Pavilion, Regional Wildlife Breeding Farm, Coral Reef Aquarium, Living Museum of Orchids & Mushroom Farm, Mayan archaeological sites, St. Francis of Assisi Chapel, Hacienda Henequenera,  Mexican Cemetery in the Mayan Village, Vino de Mexico Wine Cellar,  Marine Turtles Area, Fauna of Mexico, Jaguar Island,  Manatee Lagoon, Flamingos, and Spider Monkey Island and MORE!!   Click here for more information.
Chetumal-Puerto Juarez Federal Highway, Km. 282. Solidaridad, Quintana Roo, Mexico.
Customer Service/Sales:  Cancún: 998-251-6560 / Playa del Carmen: 984-147-6560 / México: 01-800-212-8951 / USA-CAN : 1-888-XCARET1   Monday to Sunday from 7:00 AM to 9:00 PM.
Xel-Há !!
What's to do at Xel-Há ?  Environmental activities, Yoga and Meditation, Sprint Triathlon Xel-Há, traditions such as the Melipona beekeeping, snorkeling, underground river floats, cenote swimming, rock climbing, Trepachanga river crossing (by ropes), Salpichanga river slide, grottoes, Mayan ruins, jungle trails, Chacah's Garden, Floating Bridge, Bike Races, Xel-Há Nursery, Snail Sanctuary Rosa Xel-Há, and MORE!!
Highway Chetumal-Puerto Juárez, Km. 240 local 1 y 2 módulo B. Xel-Há Tulum, Quintana Roo, México.
Customer Service/Sales: Cancún: 998-251-6560  / Playa del Carmen: 984-147-6560  /  México: 01-800-212-8951   /  USA-CAN: 1-888-XCARET1
Ruins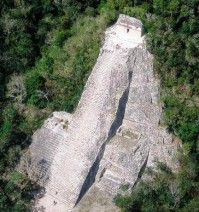 Approximately 45 kilometers west of Tulum, and a stone's throw from Valladolid, Coba is surprisingly accessible, though it appears remote. Its restoration has yet to gather momentum; and so far, the site has simply been cleared to create access.  Among the oldest and largest ancient Mayan lands, Coba emerged as a mighty city-state during the late Classic era, between 600 – 900 AD. Its political hegemony stretched some 50 square kilometers. Coba's architecture is distinct from its closest neighbors, Chichen Itza and Uxmal, both of which have elaborate facades, rich with geometric patterns. Coba's temples – tall and bulky – embody the "Peten" style more associated with the distant cities of the south. The theory is that Coba formed an alliance through marriage with Tikal, a powerful conquest state in the Peten Basin area of northern Guatemala, to facilitate trade.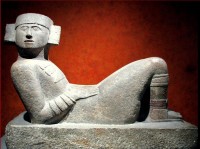 Within the Sian Kaan Biosphere Reserve, is the seldom seen archaeological site of Chac Mool. Chac Mool is a small, but interesting archaeological site, partly because of its isolation, and partly because of similarities to Chichen Itza and Tulum. Chichen Itza, because of the presence of a Chac Mool shrine room, and like Tulum, because the ruins are also located directly on the Caribbean Sea. Having the freedom to explore this site without the heavy tourist traffic is real treat.
The Xel-Ha ruins are part of the Xel-Ha Eco-park, located between Akumal and Tulum. It is a collection of stone buildings right on the highway opposite the entrance to Xel-Ha

Lagoon. The Maya had a coastal port at Xel-Ha for maritime trade between the principal towns up and down the coast, and Cozumel. The location of Xel Ha is important, for it was here that pilgrims came from all over Mayan lands for their once-in-a-lifetime pilgrimage to the island of Cozumel. "Ixchel," as it was known then was also the name of the Maya goddess of fertility. On this beautiful island, only accessed by large canoes, Maya men and women performed their ceremonies for abundant fertility.  Entering Xel ha, there are two areas of interest, both built during the Classic period (300 – 900 AD). The first is along the highway, and has buildings of stone lying among large Ceiba trees. The Ceiba tree was the Maya "tree of life" which signified a connection to the world in all four directions (north, south, east and west) and to the heavens (God, space and extra-terrestrials).
The Muyil ruins are located 25 kilometers south of the Pueblo of Tulum. The Muyil archaeological site is located on the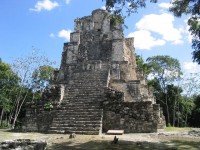 mainland side of a lagoon in the Sian Ka´an Biosphere. The most prominent building in Muyil is its pyramid. At the pinnacle is a great view of the surrounding jungle and nearby lagoon.  Like many Caribbean archaeological sites, there is evidence of much reverence for the feminine deities. A combination path-boardwalk leads from the ruins through a lush jungle-marsh area to the wide Laguna Muyil. The "Mirador" observation platform gives a spectacular view of the surrounding area. Tours of the lagoons are available by the dock.
Perched on a cliff overlooking the Caribbean Sea, Tulum was a Mayan settlement that flourished from around 1200 AD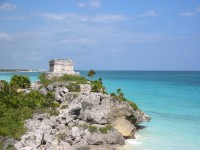 until the arrival of the Spanish. The Tulum ruins are the third most visited archaeological site in Mexico after Teotihuacan and Chichen Itza.  Known as the "Walled City", Tulum is thought to have been one of the most important cities of ancient Mayan. By 900 AD, the Mayan civilization was in decline, and the large cities to the south had been abandoned. Tulum was one of the Mayan polities that filled the void. It rose to power because it controlled maritime commerce along east side of the peninsula from Honduras to the Yucatán.