San Miguel De Allende, located in the state of Guanajuato, is a beautiful city rich in architecture and culture.  After Mexico's War of Independence, foreign artists, painters, architects and art students from the U.S. and around the world came to this city to study and re-build what was always a beautiful city but in need of repair after the war.  Since then, the city has continued to attract artists, writers, retirees and tourists which move the economy forward and the city alive.
San Miguel De Allende has magnificent churches and museums,  wonderful restaurants, festivals, fireworks and parades that permeate throughout the city.   The cobblestone streets transport you in time and add a touch of romance.
Where To Stay
There are 25 hotels that range in price from $65.00 a night to $295.00 a night, 4 Hostels ranging in price from $10.00 – $17.00 per night, and 3 Bed and Breakfasts around $30.00 per night.
If your looking for the best accomodation in town, the most luxurious hotel in San Miguel De Allende is Casa De Sierra Nevada.  It has has 37 air-conditioned rooms located in six converted colonial mansions.   Each room has wireless internet access and all the American amenities you could ask for.  Valet parking and spa services on site.
Dining options at Casa De Sierra Nevada include 2 restaurants.  A bar/lounge is open for drinks.  Room service is available during limited hours.  The hotel serves cooked-to-order breakfasts each morning in the restaurant. Recreational amenities include an outdoor pool.  The property's full-service health spa has body treatments, massage/treatment rooms, facials, and beauty services.  For a surcharge, the property offers a roundtrip airport shuttle available on request. Concierge services and tour/ticket assistance are available.
La Puertacita is a secluded property that meanders along a forested valley just above town.   Each room  unfolds it's delightful and contemporary colonial architecture amid leafy trees, terraces and gardens surrounded by creeks, water lily ponds, and waterfalls and range from luxurious 'basic' with fireplace and balcony, to suites with kitchenettes.  The public can indulge in a Sunday buffet breakfast (M$1235; 8am to 11am) or lunch (M$195; 1pm to 4pm) in its restaurant overlooking the luxuriant greenery.
Where To Eat
Start your morning off right at El Buen Café (The Good Coffee).  A bakery that serves up healthy breakfasts as well, their menu includes Mexican specialties and sweet home baked gourmet style goodies like French toast with blackberry sauce or thick oatmeal topped with blackberries and crème brûlée.  When the weather is right, sit outside in the garden and take in the views.
Via Organica or El Tomato are both vegetarian restaurants with tasty options. Vía Orgánica is a café and vegetable shop and is part of the not-for-profit Mexican organization that helps local farmers by buying their organic produce. Minestrone soups, salads, and some of the best cakes around. Vía Orgánica also runs permaculture/farming workshops.
La Posadita gets five stars for its excellent service, Mexican fare, and location. Near the Parroquia de San Miguel Arcángel, customers head up a steep set of stairs to the restaurant or the wonderful rooftop terrace.   After that long walk up, look forward to tasty margaritas, enchiladas and meat dishes.
El Ten Ten Pie  is a great choice for home-style Mexican cooking with superb chili sauces at local prices.
In the mood for Italian?  Bella Italia is set within an attractive courtyard where you can order hand-made pasta, mussels in white wine and grilled lamb chops. Musicians perform nightly.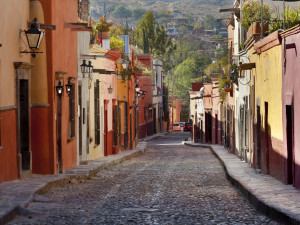 What To Do
The Indian Chapel Trail
The Indian Chapel Trail offers a glimpse into the history and customs of the Otomí Indian Tribe.  A living history expressed through their religious architecture, celebrations, traditions and legends, all which families strive to keep alive today.   These communities invite the general public to come and discover their chapels, stories, cuisine and crafts.
This tour is about respecting the local customs of these villages, and it represents a wonderful chance to see and admire the living spaces of the locals, who so generously open their doors to the public.  The tours are run by the locals and everything offered to visitors including meals, crafts, chapel tours, horse-back riding, and more, goes directly to the families.
Churches
Each church in San Miguel de Allende has a remarkable history behind it and their preservation is a testament to the city.  Make sure you see the Parroquia of San Miguel Archangel,  Church of the Immaculate Conception (Las Monjas), San Francisco de Asis Church, Oratorio de San Felipe Neri Church and the Sanctuary of Jesus of Nazareth in Atotonilco.  
Museums
The Casa de Don Ignacio Allende History Museum, completed in 1785,  is a colonial house that was built during the second half of the 18th century. The name is in honor of father Ignacio Allende, who gave the house as a wedding gift to his wife, María Ana Unzaga.  The house is now the property of the State of Guanajuato and  was converted into a museum, opening to the public in February 1990.
The Allende Institute (The Canal Family Estate) was originally the property of the Canal family dating back to the 17th century.   Used as a place of rest, the manor's courtyards, arches and private family chapel contain a few colonial frescos and amazing views.  In 1951, it was converted into an art center and Spanish school and has become one of the most important attractions in the city.
The Mask Museum: The Other Face of Mexico, displays the true nature of Mexico's indigenous culture, ceremonies and spiritual complexities. Masked dance rituals date back to pre-Hispanic times and play an important role in the lives and religious beliefs of many Mexicans.   The museum contains a collection of over 500 Mexican masks used for ceremonial dances and offers over 300 masks that are available for purchase.
How To Get There
By Plane
The closest airports are the León Airport (BJX,  an hour and a half drive along the highway from San Miguel de Allende) and the Mexico City Airport (MEX, a three hour drive).
The León Airport, also known as the Guanajuato International Airport, has flights to and from Chicago, Dallas, Houston, Los Angeles, Las Vegas and Atlanta on Aeroméxico, United, Delta and American Airlines.
Both airports have shuttle services, which can be reserved prior to arrival. The Querétaro Airport (QRO) has International flights as well and is one hour from San Miguel.
By Car
Strategically located in the heart of Mexico, San Miguel de Allende is connected by by the Mexican Highways from  León (151 km),  Mexico City (274 km), Querétaro (62 km), Guadalajara (356 km), Morelia (179 km) and Monterrey (722 km).