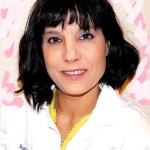 Kristin Eckland is an acute care nurse practitioner in cardiothoracic surgery, originally from southern Virginia.  After fielding a growing number of inquiries regarding medical tourism from her patients, and discovering an alarming lack of regulation and quality control for overseas medical travelers, she decided to embark on her own investigation regarding the quality of care provided by facilities, and physicians at individual destinations.
Part of the mission is to provide objective and unbiased information for potential medical travelers.  Kristin's research has led to two publications on the medical services in Colombia.  At present, she is looking at facilities closer to home in Mexicali, Mexico, as she studies with a local thoracic surgeon.
A believer in transparency and objectivity, Kristin's work is independent of outside organizations, physicians, facilities and is entirely self-funded with the exception of occasional financial gifts from her parents, who encourage and support her work.
She also invites questions and comments from interested readers through the "Contact Us" option at the top of the page.  She is also known as the "Traveling NP (Nurse Practitioner)" and maintains several blogs on both thoracic surgery, www.cirugiadetorax.org and general surgical information and travel at www.cartagenasurgery.wordpress.com.  Click here to download Kristin's latest book on surgical tourism in Mexicali.