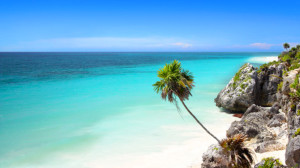 Back in 2014 Tulum was rated as the #2 international real estate investment market in the world by International Living and Agora Publishing.  In this case, the adage of being in the path of progress and popularity, was true, people flocked to Tulum. Flash forward to 2020 and that booming real estate market definitely boomed over that 6 year period! There is good news and bad news for those who invested in Tulum back in 2014 or 2015.
July, 2014: "Right now Tulum is a little pocket of opportunity with an unstoppable path of progress rolling down the coast from Cancun. New roads, bridges, and a government program are designed to more than triple tourist numbers. Unstoppable North American demographic trends mean that more and more baby boomers will want to live somewhere sunny, safe, affordable, convenient, and with First-World amenities south of the border.
Mexico's fast-growing new middle class is also becoming a serious driver here. Today the young and ambitious choose to stay and build a career or business here rather than move to the U.S. Many of them are being attracted to the Tulum area. They all need somewhere to live.
Permitting regulations mean that Tulum will stay special. It's attracting and will continue to attract the savvy and sophisticated. Tulum will stay high-end boutique."
-International Living
Yes, that really did happen and you could say "they called it."  I could also say, I called it since I got to Tulum in 2007-seven years prior to that article. For me it was more of a "know it," it was all happening in real time and, I did see it coming when we fell in love with the place back then!  You just knew a place like Tulum would not remain "undiscovered."
The good news is that if you did invest from 2014-2017 and you decided on a short term flip, with a surging demand driving prices for finished units, you did very well. If you are a longer term investor, now is not the time to sell in 2020, remain calm, Tulum is going to continue to grow in popularity and attraction, still squarely in that path of progress.
Prior to 2014 and through 2017, much of the investment in Tulum properties came from speculative raw land, commercial spaces and pre-construction condo sales, finding a well appointed finished unit was still challenging.  Condo and home investors recognizing that trend made good money with short term build, buy and sell notions.
The bad news for 2014 investors looking for a quick profit and still in Tulum is; in the 6 years since 2014, the "finished home and condo" market in Tulum has exploded and become saturated. Tulum Real Estate in 2020 is a glut of completed commercial real estate projects, new apartments, condos and homes for sale. This kind of inventory and lower demand in a slumping COVID19 economy, keeps the prices down. At least for the moment.
Choosing to cash out on your 2014 Tulum investment in 2020 is bad timing, unless you are simply wanting out and hoping to break even. With few exceptions, home appreciation has been relatively flat in the Tulum since 2017.
There are also plenty of "new" unfinished developments all over the area, offering pre-sale terms and a promise, with more coming. This kind of explosive growth combined with lots of inventory already on the market will keep prices low in the short term. Did we mention the pandemic?
Is it safe to go to Tulum right now?
Yes, despite a recent surge in cartel related skirmishes in the area, Tulum remains a safe destination for expats and tourists.  Common sense will serve you well, as in any other place.  Don't walk alone at night on dark empty streets, lock your doors when you leave your home and be aware of your surroundings – you will be safe in Tulum. Petty crimes of opportunity are more common if you don't use common sense. If you want more details, facts and tips for living safely in Mexico, please check out our latest Mexico safety information. I have personally never felt unsafe in 13 years of living in Tulum.
Is Tulum a good Investment in 2020?
Yes, Tulum is a buy now market and savvy investors will be able to find some very good deals. Tulum was under the radar as an off the beaten path place. Cancun and Playa del Carmen took most of the spotlight for the last few decades. Somewhere between 2013 and 2014 that all changed, and the development boom was on in Tulum. The current 2020 market in Tulum is a solid buyers market stuffed with undervalued properties situated within 2 miles of the Caribbean!
The market has changed since 2014…
Many early investors in Tulum properties were enticed with vacation rental income and part time use of property.  I know I was personally attracted to that concept, we built a loft apartment on our home with that idea in mind, we also live in Tulum full time.
The ROI for vacation rental properties in Tulum has dropped considerably with the flood of new finished and furnished inventory to the market, and a lot more vacation rentals out there.  That has driven the nightly rates down by 30-50%+ in the just the last 5 years.  Good news for people coming on vacation, not so great if you are counting on that ROI.
In the 2020 Tulum real estate market, it is about getting into a market when the prices are low.  If you have more modest goals with your ROI, and you plan to get more use than revenue from your home or condo in Tulum, do not delay, this is the market you have been waiting for!!  Tulum is still firmly on the rise as a higher end Mexican destination and will undoubtedly continue to grow in the coming years and decades – Mexico has big plans for Tulum, no doubt.
If you desire more use of your Caribbean home, expect modest annual returns, and likely a longer term investment turnaround, now is the time to dive in!  There are plenty of fish in the sea of Tulum real estate.
 Changing Times in The Tulum Real Estate Market
In 2008 there was a strong push for an international airport in Tulum, which sent Tulum Real Estate prices skyrocketing. Those plans fell flat with an extended bidding process and the world economy slumping.
The international airport in Tulum is still something in 2020 that city planners and politicians alike will tell you is going to happen and it probably will. It's a matter of timing at this point, as all would agree, Tulum is Mexico's crowned jewel of the Riviera Maya, and there are still big plans for the future of the once sleepy Mexican Caribbean fishing village and hippie hideaway.
Circa 2005 in Tulum: For a similar U.S. comparison, think Mexico's version of Vail or Aspen in 1972….Tulum is "special."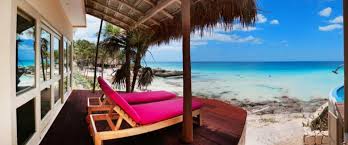 We have seen first hand the very dramatic changes happening since we arrived to Tulum in 2007.  After 2012, I would honestly say the growth felt exponential, year by year.
In 2010 Tulum became a municipal, a city with it's own growing tax base. We saw the addition of street signs in the town, roads paved, the 2 lane highway become a 4-lane highway, a new big American style grocery store, home furnishing stores, lots of new restaurants, major residential projects, eco-communities and countless new commercial properties popping up all over the place.  We even have a Starbucks now, I have mixed feelings about that. Underground water and power utilities are now being used in most new construction projects and the city has upgraded the water treatment system.
The postcards don't lie! Tulum's beaches are intoxicating, dotted with beautiful people and small eco-chic cabana resorts-they are wide, white and powdery, set against turquoise blue Caribbean waters, a setting of truly sublime natural beauty.
Thick lush jungle filled with monkeys, exotic wildlife and tropical birds; Mayan ruins dot the peninsula which is also home to the largest underground river system in the world.  "Magical" is the word most often used to describe Tulum.
Real Estate Investing in Tulum
Buying Real Estate in a place like Tulum offers you a wide variety of options ranging from luxurious beach front homes south of the ruins or north of Tulum on Tanka or Soliman Bays, to condos and casitas in town, golf course living, planned communities and jungle lots off the beaten path.
Options for property in Tulum include Eco-communities off the grid and beach front land in nature preserves where building is restricted to native materials.
Tulum Real Estate investment options are varied and many have inherit risk most foreigners are not aware of. Make certain you know what you are getting into with property in the area.  Qualifying any purchase with due diligence, title research and establishing a legal trust are critical elements for a secure real  estate investment in any part of Mexico, and especially in Tulum.
If you are getting more serious about investing in Tulum Real Estate, and would like to work with Ron on this, please keep reading to maximize your peace of mind and return on your Caribbean investment.
I am passionate about making sure expats are in trusted hands and make secure investments in Tulum. I would love to help guide you through the process of making your Tulum dream come true, with peace of mind and security!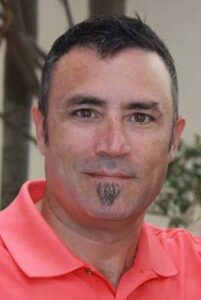 As a buyers agent I work for you, the buyer. That means I am focused on showing you secure Tulum investment properties that you want to see. Your immediate gain is a dedicated advocate and local Real Estate expert serving your investment needs and interests exclusively.
It also means you have a team behind you for expert local representation and negotiation, delivering market opportunities and insight into fair market value. We are hands on with the due diligence of investment in Tulum.
When you buy Mexico Real Estate, Realtors will usually be there at closing, but for the most part once you have made the decision to buy, your good Realtor will submit and mediate your offer and then provide you a list of attorneys, Notarios and banks that you will need to contact to complete your investment. I have personally bought and sold Tulum properties and have spoken to many expats that have done the same, that level of service is common.
We save you money and time, by handling many of those purchase details for you at a reduced rate.  We are generally about 1/2 the Mexico attorney related services expense. We are engaged with you throughout the process, from showings and your offer, through the due diligence and at closing. We are there with you, to make sure your investment is secure and at the best possible price.
You are going to need those professional services for title research and to get your trust or Fideicomiso established, plus we handle any private contracts between you and the seller and offer translation services throughout the process and your closing.
Buying Real Estate in Mexico, especially with a Trust/Fideicomiso is much different than in the U.S.
With our Tulum Buyers Agent Service…
You Get All of Those Typically "Not Included" Services Included.

We are with you throughout the entire Tulum property acquisition process and will guide you through the sometimes confusing issues before, during and after the sale – when you receive your certified title and Fideicomiso documents.
Our services include an extensive written guide on things to do in Tulum and local resources you will use. We show you the real-life aspects of daily life in Tulum and the surrounding areas.  If nothing else we are passionate about sharing Tulum and are very familiar with the lifestyle options.  I am at your service at anytime, if you have questions about anything Tulum!
As a standard practice, we provide private binding contacts between you and the seller, so that you are always on the same page…literally, terms and timing are clearly spelled out.
Title research, trust, paperwork assistance, translation services, power of attorney and closing schedules are some of the other details we handle for you.
To learn more about how our buyers agent program can work for you click below!