Tulum is One of a Kind!
Average Lifestyle Rating: B (range  C+ to A+)

Tulum is a world apart from Cancun and Playa del Carmen, but it is marching on the "path of progress" and change is in the air.  In 2004, the road to Tulum from Akumal (20 miles north) was dirt and rough.  In 2010, they finished the last leg of what is now a four-lane highway from Cancun all the way to Tulum.  This simple, eco-friendly Mayan village in Paradise is growing.  In 2010 the official population in Tulum was 15,000 and as of 2013 it is estimated to exceed 25,000.The census taken in 2010 includes a much broader "metropolitan statistical area" or Municipality that includes other towns and employee housing for resorts. Many of which are not what local residents would consider to be part of the actual town of "Tulum." So far Tulum's unique eco-charm and small town feel remain intact with a mix of local Mayan influence blended with Mexican and international culture. For us Tulum is magic and has a magnetic appeal.
Tulum is a special place for Mexico on My Mind. Our co-founder Ron Burdine and his wife Catherine have been living full-time in Tulum since the fall of 2007. The area had been pulling them there for years with annual vacation plans seemingly always being changed to include a trip to the Yucatan Peninsula. The draw to the area was truly magnetic for them. With laptops in hand it wasn't until they had a working Tulum vacation in the spring of 2007 that the couple finally decided a move to the area was really possible. After selling their home in Colorado they chose to buy property in Tulum and have been loving their new life in paradise ever since.
Over the years Ron and Catherine learned a lot about the area and local culture as well as making lots of friends and valued business contacts along the way. It was their experiences that inspired them to create Mexico on My Mind as a guide for others that have that crazy idea of moving to Mexico!
Tulum is possessed of a sublime natural beauty. The beaches are consistently ranked in the top 5 of the world and Tulum is essentially the gateway to the Mayan civilization on the Yucatan.  The local Tulum ruins are the most visited in all of Mexico.  These pyramids are hanging on cliffs overlooking the crystal clear Caribbean and provide a breath-taking sight. Bring your swimsuit, if you visit the ruins, they have their own private beach!
The wide, white coral powder beaches dotted with coco palms that stretch south of the ruins for 40 miles to Punta Allen are the crown jewels of this magical area and draw thousands of tourists each year.   The clear Caribbean water and the off-shore reef are stunning gifts of nature.
A big part of the charm of Tulum is the "eco-chic" nature of the boutique hotels that line the coast. There is no public electricity brought to the beach (by design), but between solar panels, wind turbines and generators, most hotels offer power for most of the day and some offer power 24/7.  And, you will be pleasantly surprised by the simple luxuries and abundant service found at these small, eco-friendly resorts.
Living in Tulum runs through a wide range of options, from a simple bungalow or apartment in town, to beach front homes and luxury villas and condos.  The real estate prices vary greatly from $30,000 USD for a basic bungalow to $150,000-$400,000 USD for villas and condos, and up to million dollar+ homes north of town on Tankah and Soliman Bays.  Generally speaking, the real estate gets cheaper the farther from town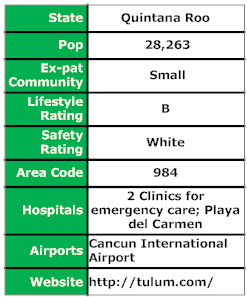 and the beach you go.  There are also a number of self-sustaining, eco-friendly, "planned communities" popping up farther inland from Tulum.  If you are interested in renting in the area, monthly rates range from $200-$1500 per month depending on your need for amenities.
The cost of food is about 30% overall from what you pay in the US.  Some locals complain that it's expensive – it is, after all, a resort town.  But, most gringos find it to be a great value.  You can eat out at a restaurant for about $20-$30 including tip for incredible meals, with cuisines ranging from Italian, French, Maya, Mexican, German, Thai, Vietnamese, American food to  a lot of creative fusion and healthy fresh options.  The variety of dining options is impressive for a small town and it lends a cosmopolitan air to the place.  However, if you do your own cooking most of the time, use fresh fruit and vegetables, or do your dining out on fish tacos, carnitas, or at some of the local "cocina economicas" where you can get a meal including a drink for about $5, your food savings could rise to 50% or more.
Tulum has a very good infrastructure in place and it's growing all the time.  There are now 7 – 8 Pemex gas stations around town (there was only one 4 years ago), a large grocery store that has familiar brands and gourmet options.  The local government is paving more and more roads, and clearly there is a tremendous amount of new development going on. From an investment standpoint, if you subscribe to the speculation of buying in the path of progress, Tulum is low-risk. When you see the incredible beaches and what is happening with local infrastructure, you'll understand why.
There are two clinics in Tulum, Centro de Salud and Municipio de Tulum that can cover basic emergency care. But, for specialized, or on-going medical situations, you'll have to make a trip to Playa del Carmen.
You can get to Tulum through the Cancun or Cozumel airports, both of which are international and have daily flights back and forth to the US.  The Cancun airport is about an hour and a half up the highway by car.  The route to the Cozumel airport is more complicated, requiring automotive transportation to the ferry in Playa del Carmen, a ferry ride over to Cozumel and then a taxi ride from the ferry pier to the airport (or vice versa) and can take from 2 to 3 hours.
Tulum is also one of the safest places to live in Mexico.  The majority of criminal activity is petty theft and crimes of opportunity, such as burglaries or stealing cars.  As a gringo in Mexico, no one is going to tell you that crime does not happen, and you should always be aware and diligent about protecting your stuff and your home. But, the truth is you're much safer in Tulum than you are in many areas of the United States.
Are you looking for perfect beaches and a "green" lifestyle?  Tulum may be the grade "A" you've been looking for – check it out!