Average Lifestyle Rating: B+ (range – B- to A+)
Cancun's Quiet Neighbor to the South is a Bustling Seaside City Now.
Playa del Carmen, only 25 miles south of Cancun, is a universe away in atmosphere. The beautiful, all-star beaches start in this area of the Yucatan coast. Hotels in Playa del Carmen range from thatch-roof bungalows to boutique hotels to the massive, all-inclusive 5-star resorts.
There are several excellent golf courses that are priced at tourist-level ($80-160 for 18 holes) during the high season, but you can get some local deals in the spring summer and fall. Several eco-parks, abundant access to water sport services, jungle adventures and many big city conveniences throughout the area.
Fifth Avenue is a charming strip in the heart of Playa del Carmen where the only traffic is pedestrian. It forms the heart of the downtown tourist area and is home to a plethora of restaurants, and tourist-focused service and retail stores. Outside the downtown area, you'll find several major department stores, restaurant and specialty shop chains, and of course, many of the "mom and pop" operations that form the backbone of the Mexican economy.
It would be very hard to run out of things to do living in the Playa del Carmen area. Just the list of parks in the area is impressive: Aktun Chen – dry cave and jungle tour; Hidden Worlds Cenote Park – home to some of the most stunningly beautiful cenotes in the Yucatan Peninsula; Xcaret Park – one of the largest and, arguably, the best eco-park on the coast; Rio Secreto – walk and float your way through spectacular caves; Xaman Ha Aviary – roughly 200 individual birds living in harmony with one another; Xel-Ha – a Natural Wonder and the most magical lagoon on the Riviera Maya coast; Yaax Che Jardin – see tropical plants and trees native to the Yucatan peninsula . . . in a natural setting; and Selvatica Aventure Jungle Tour – enjoy a combination zip line (tyrolean traverse) jungle canopy tour, biking and cenote swim.
And, the list of parks does not cover the Mayan ruins on the peninsula: Chacchoben, Chac Mool, Coba, Kohunlich/Dzibanche/Oxtankah Muyil, Tulum, Xel Ha, the world famous Chichen Itza, Dzibilchaltun, Ek Balam, Mayapan, and beautiful Uxmal. Nor, does it cover scuba diving, snorkeling, para-gliding, golf, fishing and fly-fishing, or the study of the unique and varied flora and fauna of the Yucatan. The number of "day trips" available to Riviera Maya residents is so long that you'll run out of money long before you run out of things to do.
Though the tourist industry in Playa del Carmen has been growing steadily in the last 15 years, there remains much of the atmosphere of the small fishing villages that once made up the populated parts of the southern Yucatan coast.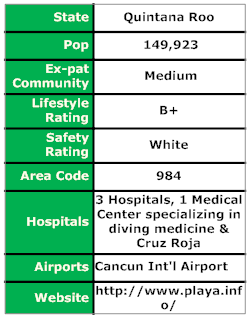 However, as with any area where there are a large amount of tourists, the cost of living has risen. You can still find apartments and condos in the Lifestyle B, and even High C ranges, but the explosion in gated, higher-end condo communities in the area has raised the cost of rent overall.But, the fresh food, vegetables and fish, are still a cheap, healthy way to eat, and some of the areas around Playa are designated as "low utility rate" areas, so your overall living costs will be lower than what you're used to in the U.S. and Canada.
There are a number of hospitals and clinics in Playa del Carmen, many with English-speaking doctors. Medical facilities include Playa Med Hospital, Clinica Medica del Carmen, Hospiten Riviera Maya and Buceo Medico Mexicano, which specializes in diving-related medicine and has a hyperbaric chamber. There are also many doctors, dentists and eye clinics in and around the area.
To get to Playa from the U.S. or Canada, you will use the International Airport in Cancun. Cancun International has hundreds of daily flights to and from 21 cities in the United States, including Miami, Dallas, Houston, Los Angeles Chicago, Newark, New York, Boston, Philadelphia, Atlanta, Charlotte, Cleveland, Washington, DC, etc., and to and from seven cities in Canada, Montreal, Toronto, Winnipeg, Quebec, Halifax, Ottawa, and Calgary. For most of these cities, there are multiple daily flights giving you a good choice of departure/arrival times.
If your net income is in the "B – A" range and you enjoy beautiful beaches, cultural and ecological diversity and a long list of things to do, you cannot beat Playa del Carmen as your home neighborhood!!

Living Like A Local
¿Qué pasa en Playa del Carmen?

Things to do! Make sure you check this link for the best local calendar guide for things to do in Playa del Carmen.  great job Michelle! Playa del Carmen Events Calendar on "In The Roo" Places to go! Tulum: Fiesta En La Playa at Mezzanine, over looking Tulum Beach Friday nights will soon be hotting up […]